Profile
Name: Ozge Ozberk
Birthdate: August 13, 1976
Birthplace: Istanbul, Turkey
Height: cm
Eye Color: Green
Hair Color: Brown
Education: Istanbul University Business Administration (Istanbul Universitesi Isletme Fakultesi)
Talent Agency:
Spouse: Hayim Sadioglu (m. 2007–2012)
Children: Leo Sadioglu
Biography: Ozge Ozberk was born in 13 August 1976 in Istanbul. She graduated from Mujdat Gezen Art Center During 2000-2002, she worked as a director at Poetry Club at Istanbul University. She also worked as a dancer and actress in various theatre plays and children theatre plays. Ozge Ozberk became popular with her role in popular Turkish series The Rose and the Thorn (Cemberimde Gul Oya).

Ozge Ozberk Tv Series / Movies
1989 – Ours (Bizimkiler) (as Zeynep)
1993 – Saban Askerde
1995 – Our House (Bizim Ev) (as Nihal)
1997 – A Bundle of Theatre (Bir Demet Tiyatro)
1999 – File of Secrets (Sir Dosyasi)
2000 – Star Hill (Yildiz Tepe) (Movie)
2003 – G.O.R.A (as Ceku) (Movie)
2004 – The Rose and the Thorn (Cemberimde Gul Oya) (as Yurdanur)
2004 – Uncle (Dayi) (as Ceyda)
2004 – If a Woman Wants (Kadin Isterse)
2005 – Broken Wings (Kirik Kanatlar) (as Nazli)
2005 – My Father and My Son (Babam ve Oglum) (as Birgul) (Movie)
2007 – 120 (as Munire)
2007 – The Clown and His Daughter (Sinekli Bakkal) (as Rabia)
2007 – Nazim Hikmet Blue Eyed Giant (as Munevver) (Movie)
2007 – Broad Times (Genis Zamanlar) (as Zehra)
2008 – My Road Mate (Yol Arkadasim) (as Ayla)
2008 – Hakimiyet
2008 – A.R.O.G. (as Ceku) (Movie)
2008 – Take It Easy (Kolay Gelsin) (as Ozge)
2011 – My Dear Dad (Canim Babam) (as Cansu)
2011 – Dirty Seven (Pis Yedili) (as Teacher Filiz)
2012 – What Are We Gonna Do Now? (N'apcaz Simdi?) (as Nalan)
2014 – Life Tree (Hayat Agaci)
2015 – Evlenmeden Olmaz (as Zeynep)
2016 – Second Chance (Kalbimdeki Deniz) (as Deniz Oztuna)
2017 – Arif V 216 (as Ceku)
2018 – Bizi Hatirla (as Ece)
2020 – A Mother's Guilt (Bir Annenin Gunahi) (as Suna)
2022 – A Night with Ayzek (Ayzek ile Bir Gece) (Movie)
2022 – Another Chance (Gelsin Hayat Bildigi Gibi) (as Derya Yilmaz)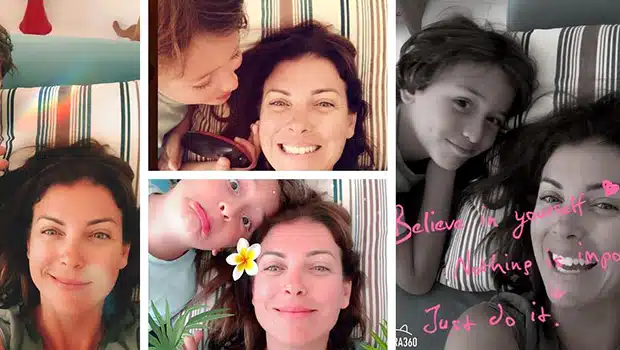 Awards
2005 – White Pearl TV Awards (Beyaz Inci TV Odulleri) – Best Actress in Supporting Role (The Rose and the Thorn) – En Iyi Yardimci Kadin Oyuncu (Cemberimde Gul Oya)
2006 – Sadri Alisik Awards (Sadri Alisik Odulleri) – Best Actress in Supporting Role (My Father and My Son) – En Iyi Yardimci Kadin (Babam ve Oglum)
Theatre Plays
1997 – Otogargara
1998 – Sen Hic Atasbocegi Gordun mu?
2001 – Bana Bir Seyhler Oluyor
2011 – Sinek Kadar Kocan Olsun, Basimda Bulunsun
2012 – Aska 103 Adim
2018 – Acik Aile
Social
Instagram: @ozgeozberk_official
Twitter: @ozgeozberk
Facebook:
E-Mail: