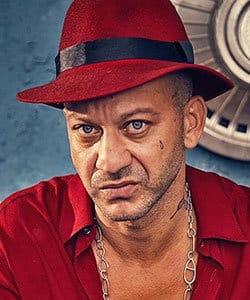 Profile
Name: Riza Kocaoglu
Birthdate: March 19, 1979
Birthplace: Izmir, Turkey
Height: 174 cm
Eye Color: Blue
Hair Color: Black
Education: 9 Eylul University Theatre (9 Eylul Universitesi Oyunculuk Bolumu)
Talent Agency:
Spouse:
Biography: Riza Kocaoglu was born in Izmir Tepecik. He took part in city theatres, BKM, and Dot. He started his acting career with Cagan Irmak's movie Wish Me Luck (Bana Sans Dile). In his interview, Riza Kocaoglu mentioned his three favorite roles: Losers' Club (Kaybedenler Kulubu), Hunting Season (Av Mevsimi) and Wish Me Luck (Bana Sans Dile).
Riza Kocaoglu Tv Series / Movies
2001 – Wish Me Luck (Bana Sans Dile) (as Bahadir Yurtseven) (Movie)
2001 – New Life (Yeni Hayat) (as Umut)
2002 – 2004 Cousins (Kuzenlerim) (as Irfan)
2004 – Ruhun Duymaz (as Erdi)
2005 – Magic Carpet Ride (Organize Isler) (Movie)
2005 – I Missed You So Much (Seni Cok Ozledim) (as Riza)
2005 – 2006 Fame (Sohret) (as Luc)
2006 – Yes Sir: Checkmate (Emret Komutanim: Sah Mat) (as Tuncay) (Movie)
2006 – Bride Ezo (Ezo Gelin)
2006 – Nightmare House: Those Coming From the Dark (Kabuslar Evi: Karanliktan Gelen) (as Kerem) (Movie)
2007 – Knife Edge (Bicak Sirti)
2007 – Give Me a Break (Dus Yakamdan)
2009 – Farewell Rumelia (Elveda Rumeli) (as Haci Ali)
2007 – The Messenger (Ulak) (as Yakup) (Movie)
2008 – Children of the Otherside (Baska Semtin Cocuklari) (as Neco) (Movie)
2008 – Elif (as Oguz)
2008 – Money=Dollar (Para=Dolar) (Movie)
2008 – The Class (Sinif) (as Cuneyt)
2009 – Lifeguard Istanbul (Cankurtaran / Istanbul) (as Redux) (Movie)
2009 – 2011 Ezel (as Temmuz)
2009 – Guldunya (as Azat)
2009 – Cappadocia Dreams (Kapadokya Dusleri) (as Salih)
2009 – Eternal (Sonsuz) (as Vedat) (Movie)
2010 – Hunting Season (Av Mevsimi) (as Asit Omer) (Movie)
2010 – Losers' Club (Kaybedenler Kulubu) (Movie)
2011 – Behzat C. I Buried You in My Heart (Behzat C.: Seni Kalbime Gomdum) (as Pembo) (Movie)
2011 – 2013 North South (Kuzey Guney) (as Ali Guntan)
2011 – Labyrinth (Labirent) (as Haluk) (Movie)
2012 – 2015 Karadayi (as Kibrit Yasin)
2013 – Behzat C. Ankara is Burning (Behzat C.: Ankara Yaniyor) (as Pembo) (Movie)
2015 – Filinta "Bin Yilin Safaginda" (as Celal)
2016 – The Best Smell of the World (Dunyanin En Guzel Kokusu) (as Hakan) (Movie)
2016 – Rosso Istanbul (Istanbul Kirmizisi) (Movie)
2016 – Istanbul Streets (Istanbul Sokaklari) (as Cemil)
2016 – 2017 Inside (Icerde) (as Davut)
2017 – The Best Smell of the World 2 (Dunyanin En Guzel Kokusu 2) (as Hakan) (Movie)
2017 – Losers' Club Soon (Kaybedenler Kulubu Yolda) (Movie)
2017 – 2018 The Pit (Cukur) (as Alico)
2019 – Organize Isler 2: Sazan Sarmali (as Ariza Riza) (Movie)
2020 – Ya Istiklal Ya Olum (as Ihsan Pere) (Movie)
Awards
2001 – Sile Buyulu Fener Film Festival (Sile Buyulu Fener Film Festivali) – Best Actor (Wish Me Luck) -En Iyi Erkek Oyuncu (Bana Sans Dile)
Social
Instagram: https://www.instagram.com/riza_kocaoglu/
Twitter: https://twitter.com/RizaKocaoglu
Facebook: https://www.facebook.com/rizakocaoglu/
E-Mail:
Youtube: https://www.youtube.com/c/Berbat
Trivia
Body Type:
Skills:
Star Sign: Pisces
Blood Type:
Hobbies:
Weight: 66 kg
Riza Kocaoglu Gallery