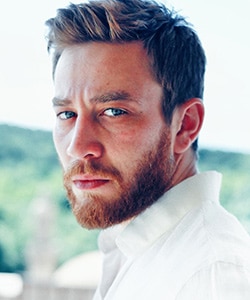 Profile
Name: Semih Erturk
Birthdate: October 14, 1993
Birthplace: Istanbul, Turkey
Height: 176 cm
Eye Color: Blue
Hair Color: Brown
Education: Istanbul University State Conservatory – Theatre (Istanbul Universitesi Devlet Konservatuari Tiyatro Bolumu)
Talent Agency: Gokce Aktas Management
Spouse:
Biography: Semih Erturk was born in 14 October 1993 in Istanbul. His interest in acting and theatre started when he was a little child. After graduating from Istanbul University State Conservatory, he started his career through taking part in various commercials. After then, he started to take part in various television series including the popular Turkish series The Bandits (Eskiya Dunyaya Hukumdar Olmaz).
Semih Erturk Tv Series / Movies
2015 – Yok Artik (as Apaci) (Movie)
2016 – The Bandits (Eskiya Dunyaya Hukumdar Olmaz) (as Taner)
2018 – 2019 Victorious Mehmets (Mehmetcik Kut'ul Amare) (as Said)
2020 – An Anatolian Tale (Gonul Dagi) (as Veysel)
Awards
Social
Instagram: https://www.instagram.com
Twitter:
Facebook:
E-Mail:
Trivia
Body Type:
Skills:
Zodiac Sign: Libra
Blood Type:
Hobbies:
Weight: 65 kg
Gallery
Semih Erturk's Clarinet Performance
Semih Erturk - Hasretinle Yandi Gonlum