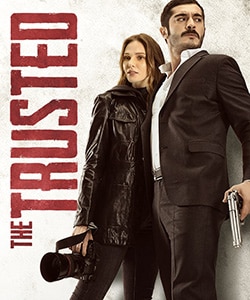 Details
Original Title: Marasli
English Title: The Trusted
Also Known As:
Genre: Romance, Action
Episodes: 26
Broadcast Network: ATV
Broadcast Period: 11 January 2021 – 13 July 2021
Production Company: Tims&B Production
Director: Arda Sarigun
Screen Writer: Ethem Ozisik, Hakan Bonomo, Ercan Ugur
Filming Locations: Istanbul, Turkey
Synopsis
Celal (Burak Deniz) is a young man who was born in 1987 in Maras, a city in the southeastern part of Turkey. Thus, he is known as Marasli (a person from Maras).
Marasli used to be a sergeant at special forces. His life changes drastically all of a sudden when her daughter is shot at the concert hall 2 years ago. After that tragedy, his daughter never speaks. Thus, Marasli quits his job to take care of her daughter.
Marasli becomes a retired soldier and starts to work as a second-hand bookseller in Istanbul. He tries to find a remedy for his daughter's disease. At the same time, he does his best to find the culprits responsible for the armed attack at the concert hall 2 years ago.

One day, a beautiful young girl Mahur (Alina Boz) enters Marasli's bookstore. Mahur is a successful photographer who comes from a wealthy family. She wanders around at the back streets of Istanbul in order to take photographs of ordinary lives.
After getting out of Marasli's bookstore, Mahur goes to a deserted factory area nearby in order to take photographs. There, she involuntarily gets involved in an accident. While taking photographs, Mahur witnesses a murder. She clearly sees that a man wearing all black clothes (named Savas – Saygin Soysal) kills another man.
Mahur becomes shocked and tries to run away from the crime scene. Meanwhile, Marasli bumps into Mahur and saves her life. After this unpleasant incident, their lives intersect and they find themselves on the same boat.
Mahur and Marasli go to the police station in order to report the crime. Marasli understands that the people who have committed this crime are professionals. This is because, the crime scene is totally cleaned up and all evidences are wiped out before the police arrives at the crime scene.
After this incident, the life of Mahur becomes in danger. She is the only witness of the crime. Thus, Savas threatens her and her family in order to cover the crime.
Mahur lives in a big mansion together with her family. Her father Aziz (Kerem Atabeyoglu) is a well known businessman in Istanbul. After her mother dies due to a cancer treatment, her father gets married to a young woman Firuzan (Rojda Demirer).
Aziz tries his best in order to protect his lovely daughter. He wants to work with Marasli who has successfully saved her daughter before. Aziz wants to hire him as a bodyguard for her daughter.
At first, Marasli becomes reluctant to work as a bodyguard. Out of pure coincidence, he figures out that the logo of Aziz's company is one of the evidences that he found at the concert hall 2 years ago. Marasli understands that there is a link between Aziz's company and the armed attack at the concert hall. Therefore, Marasli accepts to work as a bodyguard. By this way, he could find the real culprits responsible for her daughter's disease.
The trusted (marasli) tv series story is about a retired soldier who works as a bodyguard and tries to find real culprits responsible for an armed attack at the concert hall. Will Marasli manage to save Mahur? Will Savas successfully cover the murder crime? Will Marasli find real culprits of an armed attack at the concert hall? Will Marasli's daughter get healthy again?
The Trusted (Marasli) Tv Series Cast
Additional Cast Members
Neslihan Acar as Sedef Turel
Sinem Akyol as Hilal
Turku Su Demirel as Behiye Akcay
Gizem Kala as Ecem
Yahya Celebi as Suat
Cengiz Sezgin as Sadik Akcay
Nesrin Yilmaz as Nuran Akcay
Nihal Dincel as Sirin
Ozgur Koc as Nevzat
Bedriye Roza Celik as Zeliha Ince
Gunes Hayat as Hamiyet Turel
Burcu Karakaya as Dilara Karagoz
Serhat Paril as Tolga Demirci
Hakan Boyav as Yavuz Ince
Caner Atacan as Kadir
Fayat Budak as Tefeci Ismet
Engin Yuksel as Fuat Karagoz
Baris Ozdemirli as Kemal
Onur Ay as Ismet
Characters:
Marasli was born in Maras in 1987. When her daughter gets injured due to an armed attack, he leaves his position at special forces and starts to take care of her daughter. He has been working at the bookstore for two years and lives a quiet life.
Mahur is a beautiful photographer. She was born in Istanbul and went to prestigious schools. She comes from a wealthy family.
Savas is a cool and smart guy who has luxury pleasures. He always wears black clothes and suffers from xeroderma pigmentosum. Thus, he cannot be exposed to sunlight.
External Links
Official Site: Broadcast Network
English Wikipedia:
Imdb:
Social
Instagram: @marasli
Twitter: @marasliatv
Facebook: @marasliatv
Youtube Channel: @Marasli
You Might Also Like
Ariza
New Life (Yeni Hayat)
The Trusted (Marasli) Tv Series Trailer (with English Subtitle)
The Trusted (Marasli) Tv Series Trailer (with English Subtitle)