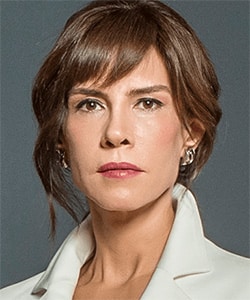 Profile
Name: Tulay Gunal
Birthdate: September 9, 1970
Birthplace: Kastamonu, Turkey
Height: 162 cm
Eye Color: Brown
Hair Color: Brown
Education: Ankara University – Theatre (Ankara Universitesi Dil ve Tarih-Cografya Fakultesi Tiyatro Bolumu)
Talent Agency:
Spouse:
Biography: Tulay Gunal graduated from Ankara University. After graduation, she worked as singer in Istanbul (she worked together with singer Isin Karaca for a while). In 1993, she started working at Diyarbakir State Theatre and after then, she transferred to Ankara State Theatre. While working at state theatres, she also took part in various private theatres such as Dostlar Tiyatrosu, Oyun Atolyesi and DOT. In 2007, Tulay Gunal started her tv career with a popular Turkish drama Rebellious (Asi).
Tulay Gunal Tv Series / Movies
2003 – A Bird Flew From the Nest (Yuvadan Bir Kus Uctu) (as Sengul)
2007 – Fog and Night (Sis ve Gece) (as Melike) (Movie)
2007 – 2009 Rebellious (Asi) (as Suheyla)
2011 – Little Sins (Kucuk Gunahlar) (Movie)
2011 – Eclipse (Ay Tutulmasi)
2012 – Naked Truth (Ciplak Gercek) (as Solmaz)
2013 – 2014 Desperate Housewives (Umutsuz Ev Kadinlari) (as Suzan)
2015 – Pretty Little Liars (Tatli Kucuk Yalancilar) (as Vildan Guclu)
2016 – The Swaying Waterlily (Ruzgarda Salinan Nilufer) (as Sermin) (Movie)
2016 – Intersection (Kordugum) (as Feyza Karasu)
2017 – Phi (Fi) (as Eti)
2018 – Servet (as Sevim)
2019 – Kuzgun (as Nese)
2020 – Romance Next Door (Cati Kati Ask) (as Perihan Yilmaz)
Awards
1995 – Ministry of Culture (Kultur Bakanligi) – Best Actress (Theatre Play of 12th Day ) – Takdirname (Onikinci Gece Tiyatro Oyunu)
1998 – Turkan Kahramankaptan Awards (Turkan Kahramankaptan Odulu) – Best Actress (Happy Ending) – En Iyi Sanatci (Mutlu Son)
2002 – Art Institution Theatre Awards (Sanat Kurumu Tiyatro Odulleri) – Best Actress (Devils) – En Iyi Kadin Oyuncu (Seytanlar)
2006 – Lions Awards (Lions Odulleri) – Best Actress (Spider) – En Iyi Kadin Oyuncu (Bocek)
2012 – 16. Afife Theatre Awards (16. Afife Tiyatro Odulleri) – Best Actress in Musical (Ben Bertolt Brecht) – Yilin En Basarili Muzikal Kadin Oyuncusu (Ben Bertolt Brecht)
2017 – 22. Sadri Alisik Theatre and Cinema Awards (22. Sadri Alisik Tiyatro ve Sinema Oyuncu Odulleri) – Best Actress in Supporting Role (The Swaying Waterlily) – Yilin En Basarili Yardimci Kadin Oyuncu (Ruzgarda Salinan Nilufer)
Social
Instagram: https://www.instagram.com/tulay9/
Twitter:
Facebook:
E-Mail:
Trivia
Body Type:
Skills:
Zodiac Sign: Virgo
Blood Type:
Hobbies:
Weight: 60 kg
Tulay Gunal Gallery