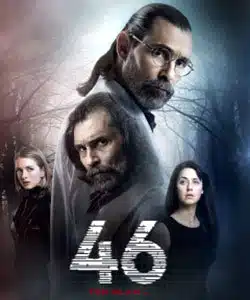 Details
Original Title: 46 Yok Olan
English Title: Vanished 46
Also Known As: 46 исчезнувших, 46 Napadid
Genre: Crime, Mistery
Episodes: 13
Broadcast Network: Star TV
Broadcast Period: March 27, 2016 – June 24, 2016
Production Company: Nunova Film
Director: Serdar Akar
Screen Writer: Ercan Mehmet Erdem
Vanished 46 Synopsis
Murat (Erdal Besikcioglu) is a professor of molecular biology who is trying to find a cure for his comatose sister Ezo (Ayca Eren). He feels guilty for the death of his father and for his sister's illness.
When Murat was a young man, he made a car accident and indirectly caused the death of his father. After this tragedy, his sister Ezo started to have a psychological problem and used sedatives. When Ezo increased the dosage of her pills without the permission of her doctor, she fell into a coma.
Murat wants to do everything that could save his sister from a 5-year long coma. He just discovers a medicine and tries a new potion on himself first without getting required permissions. But this discovery changes his life in an unexpected way.

This new medicine releases Murat's alter-ego that he cannot control and that seeks revenge for his father's death and his sister's illness. Murat starts to commit serious crimes without a second thought but never remembers what he has done afterwards. During this journey, he gets great assistance from a newly hired psychologist Ceyla (Melis Birkan), his driver Salim (Berkan Sal) and his uncle Ferit (Metin Bilgin). But at the same time, he has to face with police officers Selin (Yasemin Kay Allen) and Dogan (Saygin Soysal).
In this story, you will explore an unusual crime story from Turkey: Murat professor starts to commit serious crimes after trying a newly discovered medicine on himself. Will Murat manage to save his sister from a long time coma? Will Selin discover the culprit of crimes? Will Murat manage to control his alter-ego and return to his normal life?
Vanished 46 Cast
Erdal Besikcioglu as Murat
Yasemin Kay Allen as Selin
Melis Birkan as Ceyla
Saygin Soysal as Dogan
Berkan Sal as Salim
Metin Bilgin as Ferit
Ayca Eren as Ezo
Selin Uludogan as Sude
Ozay Fecht as Suzan
Suna Yildizoglu as Yildiz
External Links
Official Site: http://www.startv.com.tr/video/arsiv/dizi/46-yok-olan
English Wikipedia:
Imdb: http://www.imdb.com/title/tt5606154/
You Might Also Like
Behzat C.
The End (Son)
Vanished 46 Gallery