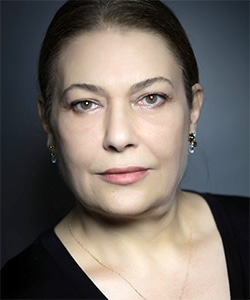 Profile
Name: Zeynep Eronat
Birthdate: July 09, 1963
Birthplace: Istanbul, Turkey
Height: 176 cm
Eye Color: Green
Hair Color: Brown
Education: Ankara University State Conservatory – Theatre (Ankara Devlet Konservatuvari Tiyatro Bolumu)
Talent Agency: Black Listt Casting
Spouse:
Biography: Zeynep Eronat was born in 09 July 1963 in Istanbul. She spent her childhood in Ankara and then moved to Ankara when she was 13 years old. She studied theatre at Ankara University State Conservatory during 1981-1985. She took lessons from Cuneyt Gokcer, Semih Sergen, Bozkurt Kuruc, and Lemi Bilgin. In 1986, she started to work at Bursa State Theatre and in 1987, she started to work at Ankara State Theatre. She got retired from Ankara State Theatre in 2007 and moved to Istanbul.

Zeynep Eronat Tv Series / Movies
1991 – Issizligin Ortasi
1996 – Cafe Casablanca
1999 – Kostebek (as Necef)
2000 – Baykuslarin Saltanati
2001 – Vasiyet (as Didar)
2002 – Vine Mansion (Asmali Konak) (as Piraye)
2002 – Ben Bir Insan
2003 – Fisgittin Bey
2003 – Where's Firuze? (Neredesin Firuze) (as Sansar) (Movie)
2003 – 2004 Serseri (as Zehra)
2004 – Everything About Mustafa (Mustafa Hakkinda Hersey) (as Selda) (Movie)
2004 – Ablam Boyle Istedi (as Nermin)
2004 – Turkmen Dugunu
2004 – Rain Time (Yagmur Zamani)
2005 – Kopek (as Hayriye)
2005 – Nehir (as Melek)
2005 – Whatever You Wish (Sen Ne Dilersen) (as Eftimiya) (Movie)
2005 – Sensiz Olmuyor (as Handan)
2006 – 2008 Coming Home (Sila) (as Bedar)
2007 – 2010 Behind the Bars (Parmakliklar Ardinda) (as Ziynet Kara)
2008 – Hayattan Korkma (as Zehra) (Movie)
2009 – 2010 Grand Bazaar (Kapali Carsi) (as Feraye)
2011 – 2012 The Girl with Red Scarf (Al Yazmalim) (as Fatma Avci)
2011 – Karakol (as Leyla)
2014 – Kizil Elma (as Meryem Kadioglu)
2014 – 2016 That is My Life (O Hayat Benim) (as Mucella)
2016 – Love of My Life (Hayatimin Aski) (as Rezzan Senkal)
2017 – Dostlar Mahallesi (as Neriman)
2019 – The Confrontation (Yuzlesme) (as Songul Kalenderoglu)
2021 – Red Room (Kirmizi Oda) (as Gumus)
2021 – The Tale of the Far City (Uzak Sehrin Masali) (as Aliye Demirkan)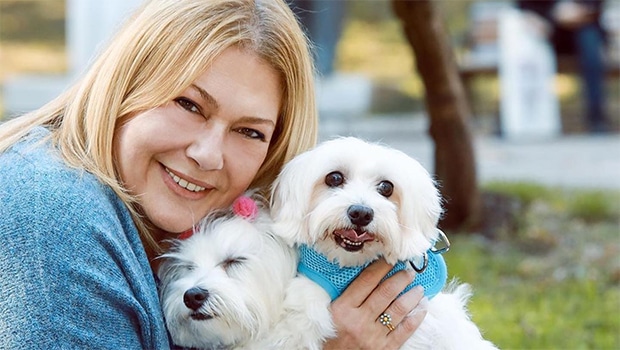 Awards

1998 – Ankara Art Institute (Ankara Sanat Kurumu) – Best Actress () – En Iyi Kadin Oyuncu (Peynirli Yumurta)
2005 – 2006 Adana Golden Cocoon Film Festival Altin Koza Film Festivali ve Ankara Film Festivali (2006 Adana Altin Koza Film Festivali) – Best Actress in Supporting Role (Whatever You Wish) – En Iyi Yardımci Kadin Oyuncu (Sen Ne Dilersen)
2005 – 2006 Ankara Film Festival (Ankara Film Festivali) – Best Actress in Supporting Role (Whatever You Wish) – En Iyi Yardimci Kadin Oyuncu (Sen Ne Dilersen)
Theatre Plays

1985 – Yedekci
1985 – Sersem Kocanin Kurnaz Karisi
1985 – Peynirli Yumurta
1986 – Akilli Tavsan
1986 – Bulbul Sesi Gibi
1986 – Kismet
1987 – Sinan
1987 – Troyali Kadinlar
1990 – Seytan Celmesi
1991 – Tamirci
1993 – Patlat Bir Shakespeare
1993 – Bahar Noktasi
1994 – Cocugum
1998 – Goya
1999 – Kadinla ile Memur
2000 – Buyuk Romulus
2002 – Celik Manolyalar
Social
Instagram: Official Instagram Account
Twitter:
Facebook:
E-Mail: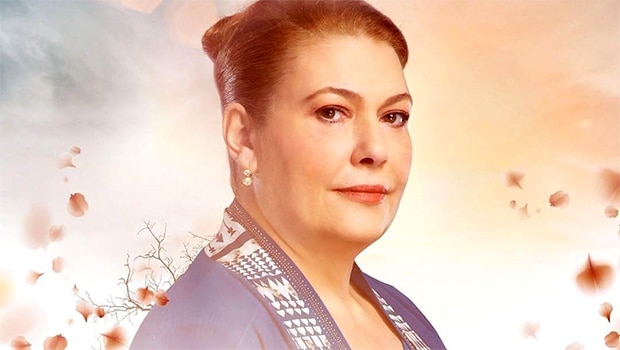 Trivia
Body Type:
Skills:
Zodiac Sign: Cancer
Blood Type:
Hobbies:
Weight: