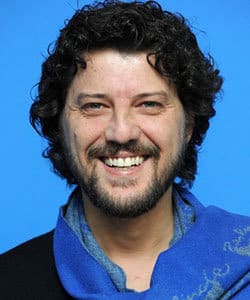 Profile
Name: Ilker Aksum
Birthdate: May 23, 1971
Birthplace: Isparta, Turkey
Height: 173 cm
Eye Color: Green
Hair Color: Black
Education: Mimar Sinan University Fine Arts School – Theatre (Mimar Sinan Guzel Sanatlar Universitesi Tiyatro Bolumu) (1989-1993)
Spouse: Belgin Erdogan (m. 2008 – 2012)
Biography: Ibrahim Ilker Aksum was born in 23 May 1971 in Isparta. After graduating from Mimar Sinan University, he started working at Antalya State Theatre. His first Professional role was Ophelia at theatre play Hamlet. He also worked at Bakirkoy Municipality Theatre and Istanbul City Theatres. He made his debut with his role Afakan Dayi at popular Turkish drama Carli.
Ilker Aksum Tv Series / Movies
1985 – Sucker (Keriz) (Movie)
1986 – Olacak O Kadar (as Ilker)
1999 – 5 Monkeys Gang (5 Maymun Cetesi) (as Amerikan)
1999 – Carli (as Afakan)
2000 – Reign of Owls (Baykuslarin Saltanati)
2000 – Carli at Work (Carli Is Basinda) (as Afakan)
2002 – Betrothed in the Cradle (Besik Kertmesi) (as Enis Buyutucu)
2002 – 2003 We Fell In Love With You (Biz Size Asik Olduk) (as Sinan)
2003 – Love Happens (Ask Olsun) (as Yildirim)
2004 – 2007 The Foreign Groom (Yabanci Damat) (as Rusen Demir)
2006 – The Little Apocalypse (Kucuk Kiyamet) (as Ali) (Movie)
2007 – 2008 The Black Snake (Kara Yilan) (as Laros)
2008 – Pains of Autumn (Guz Sancisi) (as Ismet) (Movie)
2008 – 2010 Dear Family (Canim Ailem) (as Halim)
2009 – Dragon Trap (Ejder Kapani) (Movie)
2009 – Vavien (as Sabri) (Movie)
2011 – Our Grand Despair (Bizim Buyuk Caresizligimiz) (as Ender) (Movie)
2011 – Our Aunt (Bizim Yenge) (as Bahri)
2011 – Magnificent Century (Muhtesem Yuzyil) (as Cafer Aga)
2011 – Don't You Go Too (Sen De Gitme)
2012 – The Poor Road (Kotu Yol) (as Resat Kurtoglu)
2012 – Happy Family Book (Mutlu Aile Defteri) (as Kudret) (Movie)
2013 – 20 Minutes (20 Dakika) (as Ali)
2013 – 2014 Tatar Ramazan
2013 – Two Buddies Chinese Connection (Iki Kafadar Chinese Connection) (as Altan) (Movie)
2014 – Market Bazaar (Carsi Pazar) (as Imam) (Movie)
2014 – Strawberry (Cilek) (Movie)
2014 – Old Friend (Kadim Dostum) (as Mumtaz Kilerci)
2014 – What Are You Saying (Ne Diyosuun) (as Ali Kemal)
2014 – 2015 Green Sea (Yesil Deniz) (as Kostak Usen)
2015 – Love Happens (Ask Olsun) (as Ozan) (Movie)
2015 – Look At From Here (Buyur Burdan Bak)
2015 – Seddulbahir 32 Hours (Seddulbahir 32 Saat) (as Ramiz)
2016 – 2017 For My Son (Poyraz Karayel) (3rd Season) (as Cinar Sayginer)
2016 – Love of My Love (Hayatimin Aski) (as Tarik)
2018 – Victorious Mehmets (Mehmetcik Kut'ul Amare) (as Cox)
2018 – Resurrection Ertugrul (Dirilis Ertugrul) (as Dragos)
2019 – Miracle in 7th Cell (7. Kogustaki Mucize) (as Askorozlu) (Movie)
2020 – Ramo (as Hasan)
2021 – Azizler (Movie)
Awards
2006 – 28. Siyad Turkish Cinema Awards (28. Siyad Turk Sinemasi Odulleri) – Best Actor in Supporting Role (The Little Apocalypse) – En Iyi Yardimci Erkek Oyuncu (Kucuk Kiyamet)
2010 – 1. Ismail Cem Television Awards (1. Ismail Cem Televizyon Odulleri) – Best Actor in Supporting Role (Dear Family 2nd Season) – En Iyi Yardimci Erkek Oyuncu (Canim Ailem 2. Sezon)
Social
Instagram: https://www.instagram.com/aksumilker/
Twitter: https://twitter.com/ilker_aksum
Facebook:
Ilker Aksum Gallery