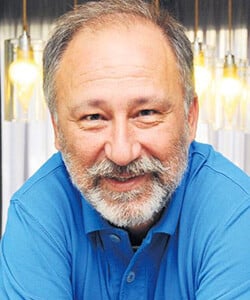 Profile
Name: Altan Erkekli
Birthdate: November 18, 1955
Birthplace: Istanbul, Turkey
Height: 180 cm
Eye Color: Brown
Hair Color: Grizzle
Education: Ankara University – Theatre (Ankara Universitesi Dil Tarih Cografya Fakultesi DTCF Tiyatro Bolumu)
Talent Agency:
Spouse: Sebnem Gursoy Talay (m. 1987 – 1991); Ebru Erkekli (m. 1997-present)
Children: Efe Erkekli, Ali Erkekli, Can Erkekli
Biography: Altan Erkekli was born in 18 November 1955 in Istanbul. His full name is Resit Altan Erkekli. While he was 11 years old, He started to study at Diyarbakir Maarif Koleji and continued his high school education at Kadikoy Maarif Koleji (current name: Kadikoy Anatolian High School). He started to study at Ankara University in 1975. During the period of 1975-2000, he also started to work at Ankara Art Theatre. During the period of 1985-1989, Altan Erkekli worked at State Theatre's Child and Youth Theatre Section. During the period of 1994-2000, Altan Erkekli worked as instructor at Ankara University. In 2009, he became the member of Besiktas Municipality Councilor, as a representative of Turkish Republican Public Party (CHP). Altan Erkekli has been giving lectures concerning diction, speaking, dubbing, and acting at Başkent İletişim Bilimleri Akademisi since 2007.
Altan Erkekli Tv Series / Movies
1982 – Dolap Beygiri (Movie)
1989 – Can Senligi
1991 – Deniz Gurbetcileri
1993 – The Blue Exile (Mavi Surgun)
1994 – Kurtulus (as Yakup Kadri Bey)
1996 – The 80th Step (80. Adim) (Movie)
2000 – Merdiven
2001 – 2002, 2006 – 2007 Bir Demet Tiyatro
2001 – Vizontele (as Nazmi Dogan) (Movie)
2003 – Havada Bulut
2003 – An Istanbul Fairytale (Bir Istanbul Masali) (as Cemal Kozan)
2004 – Hizli Adimlar (as Lutfu) (Movie)
2004 – Vizontele Tuuba (as Nazmi Dogan) (Movie)
2005 – Istanbul Tales (Anlat Istanbul) (as Hilmi) (Movie)
2005 – Magic Carpet Ride (Organize Isler) (as Yusuf Ziya Ocak) (Movie)
2006 – Heist School (Sinav) (as Almanci Sedat) (Movie)
2006 – Home Coming (Eve Donus) (Movie)
2006 – Kilit (as Yakup) (Movie)
2006 – Unutulmayanlar (as Aziz) (Movie)
2006 – Waiting for Heaven (Cenneti Beklerken) (Movie)
2005 – 2007 The White Poppy (Beyaz Gelincik) (as Halil Aslanbas)
2008 – Ask Geliyorum Demez (as Miran) (Movie)
2009 – I Saw the Sun (Gunesi Gordum) (as Davut Altun) (Movie)
2010 – Sen Yuva (as Kalender Senyuva)
2010 – Above the Ground (Yerden Yuksek) (as Ziya Fikret Tamyol)
2011 – Love Loves Coincidences (Ask Tesadufleri Sever) (as Yilmaz) (Movie)
2012 – The Fake World (Yalan Dunya) (as Sehmuz Kocabas)
2012 – Acayip Hikayeler (as Nazif)
2013 – A Long Story (Uzun Hikaye) (as Emin) (Movie)
2013 – Grapes of Hope (Umut Uzumleri) (as Ali) (Movie)
2014 – Rain: The Flower of Doom (Yagmur: Kiyamet Cicegi) (Movie)
2014 – Sen Olsan Ne Yapardin
2015 – Stolen Life (Kara Ekmek) (as Salim)
2016 – Surprise Marriage (Hangimiz Sevmedik) (as Munir Yesil)
2017 – Nerdesin Birader (as Adnan Arici)
2017 – Ayla: The Daughter of War (Ayla) (as Huseyin Dilbirligi) (Movie)
2018 – Remember Us (Bizi Hatirla) (as Esref) (Movie)
2018 – Muslum (Movie)
2018 – Mehmed: The Conqueror (Mehmed: Bir Cihan Fatihi) (as Muslihiddin)
2018 – Bozkir (as Abbas Eroglu)
2019 – Operation Cicero (Cicero) (as Tailor) (Movie)
2019 – Vurgun (as Erdogan Vardar)
2019 – Hababam Sinifi Yeniden (as Mehmet) (Movie)
2019 – Dengi Dengine
2019 – 2020 Love Trap (Afili Ask) (as Muhsin Yigiter)
2019 – Gorulmustur
2020 – Agir Romantik (as Servet Babayigit) (Movie)
2020 – Ya Istiklal Ya Olum (as Salih Hulusi Kezrak)
2021 – Hababam Sinifi Yaz Oyunlari (as Mehmet) (Movie)
2021 – The Last Emperor (Payitaht Abdulhamid) (as Ernest Cassel)
2021 – The Green Pine (Yesilcam) (as Mumtaz Bolat)
2021 – Twist of Fate (Baht Oyunu) (as Zafer Dogrusoz)
Awards
Social
Instagram:
Twitter:
Facebook:
E-Mail:
Trivia
Body Type:
Skills:
Zodiac Sign:
Blood Type:
Hobbies:
Weight:
Altan Erkekli Gallery