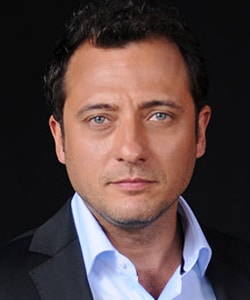 Profile
Name: Yigit Ozsener
Birthdate: April 06, 1972
Birthplace: Izmir, Turkey
Height: 175 cm (5′ 9″)
Eye Color: Green
Hair Color: Black
Education: YTU Faculty of Electrical and Electronics Engineering (Yildiz Teknik Universitesi Elektronik ve Haberlesme Muhendisligi)
Talent Agency:
Spouse:
Biography: Yigit Ozsener was born in 6 April 1972 in Izmir Karsiyaka. After graduating from Yildiz Teknik University, he made his master's degree in Koc University. He also took acting lessons at Studio Actors Association (Studio Oyunculari Toplulugu) and took part in various theatre plays until 2001. He started his acting career with his role in theatre play named Gergedanlasma in 1995. Yigit Ozsener knows English and French and also works as a voice actor.
Yigit Ozsener Tv Series / Movies
2000 – Away From Home (Herkes Kendi Evinde) (as Murat) (Movie)
2000 – Sorry Leyla (Uzgunum Leyla)
2001 – Running in the Dark (Karanlikta Kosanlar) (as Mehmet)
2001 – Green Light (Yesil Isik) (as Berk) (Movie)
2002 – He's in the Army Now (O Simdi Asker) (as Omer) (Movie)
2002 – Don't Forget Me (Unutma Beni) (as Esat)
2002 – Zeybek Ates (as Gazateci Burak)
2003 – Crude (Firsat) (as Ali) (Movie)
2003 – Estagfurullah Yokusu (as Sadi)
2003 – Secret (Giz) (Movie)
2004 – Arapsaci
2004 – Stolen Corpse (Calinan Ceset) (as Yigit) (Movie)
2004 – One Day In Europe (as Police) (Movie)
2004 – Night 11:45 (Gece 11:45) (as Okan) (Movie)
2004 – 24 Hours (24 Saat) (as Komiser Yigit Ozsener)
2005 – Tombala (as Cem) (Movie)
2005 – Last Looks (Movie)
2005 – Ruzgarli Bahce (as Ozan)
2006 – Like a Dream (Ruya Gibi) (as Cenk Ozturk)
2006 – Horror House (Kabuslar Evi: Onlara Dokunmak) (as Yunus) (Movie)
2006 – Times and Winds (Bes Vakit) (as Yusuf) (Movie)
2007 – Lost (Kayip) (as Omer) (Movie)
2007 – 2009 From the Lips to the Heart (Dudaktan Kalbe) (as Cemil Pasazade)
2008 – Last Looks (as Yapimci) (Movie)
2009 – I Saw the Sun (Gunesi Gordum) (as Yuzbasi Caner) (Movie)
2009 – 2011 Ezel (as Cengiz Atay)
2010 – Losers' Club (Kaybedenler Kulubu) (as Mete) (Movie)
2011 – My Grandfather's People (Dedemin Insanlari) (as Ibrahim) (Movie)
2011 – Love Loves Coincidences (Ask Tesadufleri Sever) (as Burak) (Movie)
2012 – The End (Son) (as Selim Karan)
2012 – An Story of Ferhat and Sirin (Bir Ferhat ile Sirin Hikayesi) (as Ferhat)
2013 – 2014 Galip Dervis (as Engin Secim)
2013 – 2014 Revenge (Intikam) (as Ruzgar Denizci)
2014 – The Two Faces of January (Ocak Ayinin Iki Yuzu) (Movie)
2015 – Gallipoli 100-Year-Seal (Canakkale Yuzyillik Muhur)
2016 – And… The Curtain! (Ve Perde!) (Movie)
2016 – 2017 Brave and Beautiful (Cesur Ve Guzel) (as Riza)
2017 – Something Useful (Ise Yarar Bir Sey) (as Yavuz) (Movie)
2017 – Losers' Club 2 (Kaybedenler Kulubu Yolda) (as Mete) (Movie)
2018 – Bozkir (as Seyfi Tahroglu)
2020 – Ramo (as Yavuz)
2021 – The Red Room (Kirmizi Oda) (as Zafer Karahanoglu)
2021 – Barbarossa: Sword of the Mediterranean (Barbaroslar: Akdeniz'in Kilici) (as Pietro)
Awards
2003 – 2003 International Los Angeles Film Festival (2003 Uluslararasi Los Angeles Film Festivali) – Best Movie (Crude) – En Iyi Film Odulu (Firsat)
2003 – International Seattle Film Festival (Uluslararasi Seattle Film Festivali) – Special Jury Award (Crude) – Ozel Juri Odulu (Firsat)
2018 – 50. Cinema Writers Association Awards (50. Sinema Yazarlari Dernegi Odulleri) – Best Actor in Supporting Role (Something Useful) – En Iyi Yardimci Erkek Oyuncu Performansi (Ise Yarar Bir Sey)
Social
Instagram: https://www.instagram.com/yigitozsener/
Twitter:
Facebook:
E-Mail: [email protected]
Trivia
Body Type:
Skills: Speaks French and English fluently
Star Sign: Aries
Blood Type:
Hobbies:
Weight: 67 kg
Yigit Ozsener Gallery