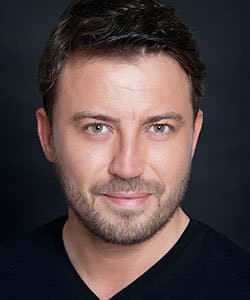 Profile
Name:
Tolga Gulec
Birthdate:
September 20, 1981
Birthplace:
Hatay, Turkey
Height:
180 cm
Eye Color:
Green
Hair Color:
Brown
Education:
Dokuz Eylul University Fine Arts School – Theatre (Dokuz Eylul Universitesi Guzel Sanatlar Fakultesi Tiyatro Bolumu)
Talent Agency:
Abdullah Bulut Management
Spouse:
Yeliz Sar (m. 2013-2017)
Biography:
Tolga Gulec was born in 20 September 1981 in Iskenderun/Hatay. Due to the fact that his father worked for Turkish army, Tolga Gulec spent his childhood in various cities of Turkey. After high school, he won Business Administration of Cukurova University. However, he decided to drop out of school and studied theatre at Dokuz Eylul University.
Tolga Gulec Tv Series / Movies
2004 – 2007 Big Meeting (Buyuk Bulusma) (as Tuncay)
2005 – Broken Wings (Kirik Kanatlar) (as Coustas)
2005 – Misi (as Ege Aydan)
2006 – Remember Darling (Hatirla Sevgili) (as Necdet Adali)
2008 – Gin Gateway (Cin Gecidi) (as Murat) (Movie)
2008 – Night and Daytime (Gece Gunduz) (as Ahmet)
2010 – 2011 As Time Goes By (Oyle Bir Gecer Zaman Ki) (as Ahmet)
2012 – Lost Children of Hard Times (Zor Yillarin Kayip Cocuklari) (as Onur) (Movie)
2013 – I Wrote Your Name to My Heart (Adini Kalbime Yazdim) (as Halil)
2013 – Missing Pages (Eksik Sayfalar) (Movie)
2013 – Surgun Inek (as Hazim) (Movie)
2014 – Life Tree (Hayat Agaci) (as Kenan Yener)
2015 – For My Son (Poyraz Karayel) (as Neset)
2015 – Last Exit (Son Cikis) (as Cesur)
2017 – Mrs. Fazilet and Her Daughters (Fazilet Hanim ve Kizlari) (as Gokhan Egemen)
2019 – Scent Of My Daughter (Kizim Gibi Kokuyorsun) (as Mustafa) (Movie)
2019 – Dishonour (Leke) (as Mehmet Tuna)
2019 – Face Off (Yuzlesme) (as Tunc)
Awards
Social
Instagram: https://www.instagram.com/tolgagulec/
Twitter:
Facebook:
E-Mail:
Trivia
Body Type:
Skills:
Star Sign: Virgo
Blood Type:
Hobbies:
Tolga Gulec Gallery