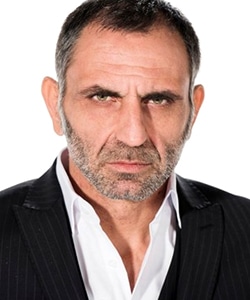 Profile
Name: Gurkan Uygun
Birthdate: May 27, 1974
Birthplace: Sakarya, Turkey
Height: 1,8 m
Eye Color: Green
Hair Color: Black
Education: Istanbul University State Conservatory (Istanbul Universitesi Devlet Konservatuari)
Spouse: Sebnem Uygun (m. 2008 – present)
Children: Mihriban Balim Uygun, Ates Uygun, Miran Mavi Uygun
Biography: Gurkan Uygun was born in Kocaeli as a son of a worker father. His family is of Georgian descent. He moved to Istanbul in 1993 after graduating from high school. He was interested in theatre while he was going to high school. He took theatre lessons at Dormen Theatre. He took part in various theatre plays at Dormen Theatre for 7 years. Gurkan Uygun became very popular with his role as Memati at popular Turkish Drama Valley of Wolves (Kurtlar Vadisi). He took part in Valley of Wolves (Kurtlar Vadisi) for almost 10 years.

Gurkan Uygun Tv Series / Movies
1995 – Taxi Station (Cicek Taksi) (as Hidir)
1996 – Sweet Madmen (Tatli Kaciklar) (as Tolgahan)
1997 – Afife Jale (Movie)
1997 – Was that Supposed to Happen (Boyle mi Olacakti) (as Serkan)
1997 – Last Company (Son Kumpanya)
1999 – Crazy Heart (Deli Yurek) (as Cihan)
1999 – Bean (Fasulye) (Movie)
1999 – 2001 Story of Snake (Yilan Hikayesi) (as Ramazan)
2003 – 2005 Valley of Wolves (Kurtlar Vadisi) (as Memati Bas)
2005 – Bitter Life (Aci Hayat)
2005 – Valley of Wolves Iraq (Kurtlar Vadisi Irak) (as Memati Bas) (Movie)
2007 – 2015 Valley of Wolves Ambush (Kurtlar Vadisi Pusu) (As Memati Bas)
2007 – Valley of Wolves Terror (Kurtlar Vadisi Teror) (as Memati Bas) (Movie)
2010 – Valley of Wolves Palestine (Kurtlar Vadisi Filistin) (as Memati) (Movie)
2012 – 2013 Magnificent Century (Muhtesem Yuzyil) (as Mimar Sinan)
2012 – Hittite: Mystery of Medallion (Hititya: Madalyonun Sirri) (as Zebab) (Movie)
2013 – Diary (Gunce) (Movie)
2013 – 2014 Fugitive (Kacak) (As Serhat Hakeri/Ahmet Yurt)
2013 – Lal (As Cafer) (Movie)
2013 – Are We Okey? (Tamam miyiz?) (as Dad) (Movie)
2013 – Canakkale The End of the Road (Canakkale Yolun Sonu) (as Muhsin) (Movie)
2014 – Don't Tell Me Story (Bana Masal Anlatma) (as Jilet Ali) (Movie)
2014 – Dance with Jackals 3 (Cakallarla Dans 3) (as Komiser) (Movie)
2015 – Game of Byzantines (Bizans Oyunlari: Geym of Bizans) (as Gazi Magosa) (Movie)
2015 – Dice Double One (Hep Yek) (as Cevat) (Movie)
2015 – Mu Tiya Mu the Mysterious Melody (as Zebab) (Movie)
2016 – Ankara Summer (Ankara Yazi) (as Ahmet) (Movie)
2016 – Crazy Forested (Deli ormanli) (as Tahsin Kara) (Movie)
2016 – Amber (Kehribar) (as Orhan Yarimcali)
2016 – Baker Father: Mystery of Love (Somuncu Baba Askin Sirri) (as Yildirim Bayezid) (Movie)
2016 – Ankara Yazi Veda Mektubu (Movie)
2017 – Dice Double One 2 (Hep Yek 2) (as Cevat) (Movie)
2016 – 2017 Heart Of The City (Bu Sehir Arkandan Gelecek) (as Sahin Vargi)
2018 – Mehmed Bir Cihan Fatihi (as Delibas)
2018 – Payitaht: Abdulhamid (as Mr. Halil Halit)
2019 – Cep Herkulu: Naim Suleymanoglu (as Ozer Feyzioglu) (Movie)
2020 – Ishq o'yinlari (Movie)
2020 – 2021 The Great Seljuks: Guardians of Justice (Uyanis: Buyuk Selcuklu) (as Hasan Sabbah)
2021 – 50M2 (as Mumtaz)
2021 – Seni Bulacam Oglum! (Movie)
2021 – 2023 Teskilat (as Yildirim Koral / Efkar)
Awards
2005 – 1st White Pearl TV Awards (1.Beyaz Inci TV Odulleri) Best Actor in a Supporting Role – Valley of Wolves (En Iyi Yardimci Erkek Oyuncu-Kurtlar Vadisi)
Theatre Plays
1994 – Muhtesem Ikili
1995 – Arapsaci
1996 – Komik Para
1997 – Bu Filmi Gormustum
1998 – Yukarida Biri mi Var
1999 – Zafer Madalyasi
2006 – Atina'li Timon
2013 – Testosteron
Social
Instagram: @grknuygun
Twitter:
Facebook:
E-Mail: