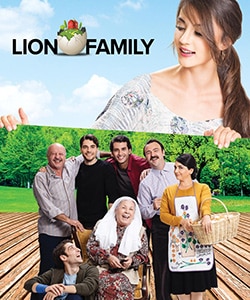 Details
Original Title: Aslan Ailem
English Title: Lion Family
Also Known As:
Genre: Romance, Comedy
Episodes: 31
Broadcast Network: TRT 1
Broadcast Period: September 28, 2017 – May 20, 2018
Production Company: Es Film
Director: Basak Soysal
Screen Writer: Ayca Mutlugil
Filming Locations: Istanbul – Mugla, Turkey
Synopsis
Lion Family is a family consisting of seven family members. Vedat (Hakan Salinmis) has been living together with his mother Hayriye (Zerrin Sumer), his wife Hatice (Benian Donmez) and his four sons in Lion Ranch for 30 years. Vedat is a farmer while his wife Hatice is a housewife who is also working in the Ranch through raising chickens and growing vegetables.
Lion Family lives happily all together in the Lion Ranch.
The eldest son Gayret (Ferdi Sancar) works as a radiologist who is a cleaning addict. Due to his picky personality, he cannot manage to have a girlfriend and all his dating attempts fail.

The second son Murat (Akin Akinozu) is a thirty years old young man who works as a police officer. He is extremely clever, handsome, and idealist. He makes observations and comes up with perfect analysis through paying attention to small details. Even though he seems to be so strong, he is in fact very tender. He cares about his family so much and becomes a trustworthy family member whom everybody asks for his opinion and advice.
The third son Umut (Firat Altunmese) works as a passionate journalist. He is devoted to his job and does not refrain from taking risks.
The fourth son Mutlu (Bora Akkas) is a carefree young man who spends most of his time at the ranch together with his parents and his grandmother. Even though he is so clever, he uses his intelligence for his own good.
The simple life of Lion family turns upside down all of a sudden. One day, a young and beautiful girl Burcu (Burcu Ozberk) knocks on the door of Lion family and claims that she is the real owner of the ranch.
Burcu is a beautiful university student who is the daughter of a wealthy man. She lives together with her father and her stepmother in a big mansion. She has everything in life and cares about her social media account. Her perfect luxury life and her daily concerns change dramatically when her father is accused of corruption. Due to these accusations, her father flees from the police and leaves the country without saying anything to his lovely daughter.
Burcu finds herself all alone after her father disappears. Her stepmother betrays her and leaves the house with her new boyfriend. All her family's belongings are sent in the bailiffs, all bank accounts are suspended, and the house where she lives is taken control by the police.
Burcu finds herself in a desperate situation and does not know how to survive in this chaos. When she finds a letter left by her father, she learns that she owns the Lion Ranch.
The only place Burcu could go is a Lion Ranch which is inherited from her father. Whenever she learns that she is the owner of the ranch, she goes there and meets Lion Family. She claims that she is the real owner of the ranch and asks them to leave the ranch immediately.
Lion family (aslan ailem) tv series story is about Lion Family who finds itself in a difficult situation when the real owner of the ranch comes all of a sudden. Will Burcu manage to prove that she is the real owner of the Lion Ranch? Will Burcu manage to survive after her father flees from the police and leaves the country? Will Murat get along with Burcu?
Lion Family (Aslan Ailem) Tv Series Cast
Akin Akinozu as Murat Aslan
Burcu Ozberk as Burcu Olgun
Zerrin Sumer as Hayriye Aslan
Hakan Salinmis as Vedat Aslan
Benian Donmez as Hatice Aslan
Ferdi Sancar as Gayret Aslan
Firat Altunmese as Umut Aslan
Bora Akkas as Mutlu Aslan
Levent Ozdilek as Tayfun Olgun
Eda Solenci as Pelin Erdem
Mehmet Seker as Cem Karabag
External Links
Official Site: https://www.trt1.com.tr/arsiv/aslan-ailem
English Wikipedia:
Imdb:
You Might Also Like
Beautiful Villager (Guzel Koylu)
The Large Family (Genis Aile)
Lion Family (Aslan Ailem) Tv Series Gallery
Lion Family (Aslan Ailem) Tv Series Trailer (with English Subtitle)
Lion Family (Aslan Ailem) Tv Series Trailer (with English Subtitle)