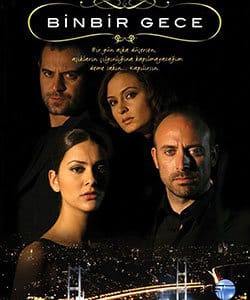 Details
Original Title: Binbir Gece
English Title: 1001 Nights
Also Known As: A thousand and one Nights (English), Wa Yabka Al Hob (Arabic), 1001 Nok (Republic of Makedonia), 1001 Noshti (Bulgaria), 1001 de nopti (Romania), Hilies kai mia nyhtes (Greece)
Genre: Romance, Drama, Family
Episodes: 90
Broadcast Network: Kanal D
Broadcast Period: November 7, 2006 – May 12, 2009
Production Company: TMC Film
Director: Kudret Sabanci
Screen Writer: Mehmet Bilal, Murat Lutfu, Yildiz Tunc, Ethem Yekta
Synopsis
Sehrazat (Berguzar Korel) is a talented architect who works in a construction company owned by Onur (Halit Ergenc) and Kerem (Tardu Flordun). She loses her husband and is devastated once more when she learns that her five-year old son suffers from leukemia and needs an urgent and very expensive surgery.
Sehrazat finds $50.000 by her effort but still needs another $150.000 to afford her son's very costly surgery, bone marrow transplantation. Although she knows that she is an unwanted bride, she desperately asks for her father-in-law but is rejected cruelly.
As a last chance, Sehrazat tries to receive $150.000 in loan from her boss, Onur who is secretly attracted to her. Onur accepts to give her the money on the condition that she spends one night with him. This indecent offer, which turns the life of Sehrazat upside down, becomes the beginning of everything.

In 1001 nights (binbir gece) tv series story, you will explore a love story which has a dark night in the past. Will Sehrazat forget about her dark night, the one night stand for money compensation? Will the secret between Sehrazat and Onur be revealed? Will indecent offer shade true love forever?
1001 Nights (Binbir Gece) Tv Series Cast
Berguzar Korel as Sehrazat Evliyaoglu
Halit Ergenc as Onur Aksal
Tardu Flordun as Kerem Inceoglu
Ceyda Duvenci as Bennu Ataman
Canan Erguder as Eda Akinay
Tomris Incer as Nadide Evliyaoglu
Metin Cekmez as Burhan Evliyaoglu
Meral Cetinkaya as Peride Aksal
Melahat Abbasova as Mihriban
Yonca Cevher as Fusun Evliyaoglu
Ergun Demir as Ali Kemal Evliyaoglu
Aytac Oztuna as Seval Inceoglu
Suphi Tekniker as Yalcin
Sevda Aktolga as Nurhayat
Ismail Duvenci as Ismail
Sendogan Oksuz as Mr. Dovlet
Metin Osmanoglu as Ercan Demir
Umit Bulent Dincer as Doruk
Bartu Kucukcaglayan as Gani
Nihan Durukan as Aysen
Erdal Bilingen as Hakan
Nilufer Silsupur as Jale
Fusun Kostak as Cansel
Hilal Ozgu as Irmak
Ayla Algan as Betul
Recognitions
34. Golden Butterfly Awards (2007): Best Actress (Berguzar Korel)
34. Golden Butterfly Awards (2007): Best Actor (Halit Ergenc)
34. Golden Butterfly Awards (2007): Best Drama (Binbir Gece)
Main Characters' Other Popular Dramas
Berguzar Korel: Endless Song (Bitmeyen Sarki)
Halit Ergenc: Zerda (Zerda), Aliye (Aliye), Magnificent Century (Muhtesem Yuzyil)
External Links
Official Site: https://www.kanald.com.tr/binbirgece
English Wikipedia: http://en.wikipedia.org/wiki/Binbir_Gece
Imdb: http://www.imdb.com/title/tt0905574/
You Might Also Like
Forbidden Love (Ask-i Memnu)
Vine Mansion (Asmali Konak)
1001 Nights tv series gallery
1001 nights (binbir gece) tv series trailer (English Subtitles)
1001 Nights (Binbir Gece) Trailer (Eng Sub)