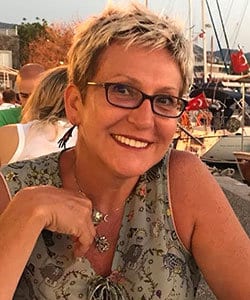 Profile
Name:
Melek Gencoglu
Birthdate:
October 13, 1959
Birthplace:
Istanbul, Turkey
Education:
Istanbul University Faculty of Literature – Social Anthropography and Ethnology (Istanbul Universitesi Edebiyat Fakultesi Sosyal Antropoloji ve Etnoloji Bolumu) (1980)
Spouse:
Aykut Gencoglu (m. 1981-present)
Biography:
Melek Gencoglu was born in 1959 in Istanbul. While studying at Istanbul University, she also took elective lessons about social psychology and pedagogics. After graduating from the university, she started working at accounting department of Turkish Phillips company and worked there for 8 years. With the help of her friend, she met a well-known director Kandemir Konduk and had a chance to show her scripts. She joined to the team of screenwriters of popular Turkish series Mahallenin Muhtarlari. She did screenwriting of Mahallenin Muhtarlari for 11 years together with other 5 screenwriters. Meanwhile, Melek Gencoglu met with Ece Yorenc and joined to the production company Ay Yapim.
Screenwriter
1992 – 2002 Mahallenin Muhtarlari (Tv Series)
2000 – Defense (Savunma) (Movie)
2002 – My Couch (Kocum Benim) (Tv Series)
2004 – 24 Hours (24 Saat) (Tv Series)
2004 – Tatil Asklari (Tv Series)
2004 – Stolen Body (Calinan Ceset) (Movie)
2005 – Zeynep (Tv Series)
2006 – 2010 Leaf Cast (Yaprak Dokumu) (Tv Series)
2007 – Love Once Again (Ask Yeniden) (Tv Series)
2007 – 2008 From Lips to Heart (Dudaktan Kalbe) (Tv Series)
2007 – Menekse and Halil (Menekse ile Halil) (Tv Series)
2008 – 2009 Forbidden Love (Ask-i Memnu) (Tv Series)
2010 – 2011 What is Fatmagul's Fault? (Fatmagul'un Sucu Ne?) (Tv Series)
2011 – 2012 Kuzey Guney (Tv Series)
2013 – 2014 Tide and Eid (Medcezir) (Tv Series)
2014 – Kurt Seyit and Shura (Kurt Seyit ve Sura) (Tv Series)
2018 – Falcon Crest (Sahin Tepesi) (Tv Series)
Actress
1992 – Mahallenin Muhtarlari (Tv Series)
2002 – MY Couch (Kocum Benim) (Tv Series)
2004 – Tatil Asklari (Tv Series)
2007 – Menekse and Halil (Menekse ile Halil) (Tv Series)
2007 – Coincidence (Rastlanti) (Movie)
Awards
2010 – 1. Ismail Cem Television Awards (1. Ismail Cem Televizyon Odulleri) – Best Adaptation Scenario (Forbidden Love) – En Iyi Uyarlama Senaryo (Ask-i Memnu 2. Sezon)
Social
Instagram: https://www.instagram.com/melekgencoglu/
Twitter: https://twitter.com/melekgencoglu
Facebook:
E-Mail: