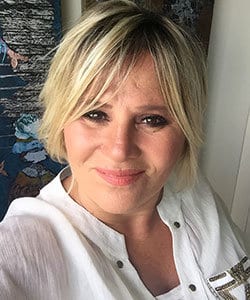 Profile
Name: Ece Yorenc
Birthdate: October 20, 1962
Birthplace: Istanbul, Turkey
Education: Ankara University Faculty of Languages History and Geography (abandonment)
Spouse: Ali Yorenc
Children: Ali Yorenc
Biography: Ece Yorenc was born in 20 October 1962 in Istanbul. While she was studying at Ankara University, she dropped out the school after getting married. When her husband Ali Yorenc passed away in 1991, she started to work at insurance company. When her scripts/stories were shown to well-known director Kandemir Konduk, she joined to the team of popular Turkish series Mahallenin Muhtarlari. She did screenwriting of Mahallenin Muhtarlari for 11 years together with other 5 screenwriters. Meanwhile, Ece Yorenc met with Melek Gencoglu and joined to the production company Ay Yapim. Ece Yorenc has a son named as Ali Yorenc.

Screenwriter
Actress
2007 – Menekse and Halil (Menekse ile Halil) (as Yenge)
Awards
2010 – 1. Ismail Cem Television Awards (1. Ismail Cem Televizyon Odulleri) – Best Adaptation Scenario (Forbidden Love) – En Iyi Uyarlama Senaryo (Ask-i Memnu 2. Sezon)
Social
Instagram:
Twitter: @eceyorenc
Facebook:
E-Mail: