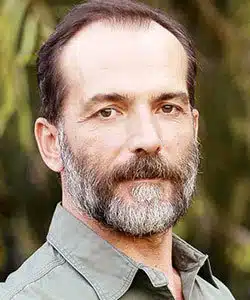 Profile
Name: Muhammet Uzuner
Birthdate: June 30, 1965
Birthplace: Samsun, Turkey
Height: 185 cm
Eye Color: Green
Hair Color: Black
Education: Ankara University Faculty of Languages, History and Geography – Theatre (Ankara Universitesi Dil ve Tarih-Cografya Fakultesi Tiyatro Bolumu Oyunculuk Ana Sanat Dali)
Talent Agency:
Spouse: Arzu Gamze Kilinc
Biography: Muhammet Uzuner founded Antalya Municipality Theatre Studio (Antalya Buyuksehir Belediyesi Tiyatro Atolyesi) in 1993 after he graduated in 1992. He worked there as actor, director and trainer until 2004. Also, he took part in various theatre plays in Antalya Municipality Theatre and Antalya State Theatre. After then, he moved to Istanbul. Muhammet Uzuner has worked in Istanbul Theatre Pera since 2006.

Muhammet Uzuner Tv Series / Movies
1995 – Taxi Station (Cicek Taksi)
2001 – Tatli Hayat
2001 – 2022 Dadi (as Sohret Sohretli)
2002 – Asli ile Kerem
2002 – Berivan (as Kemal)
2003 – Sih Senem (as Vahap)
2004 – The Big Lie (Buyuk Yalan) (as Koray Soyturk)
2004 – Percem (as Levent)
2005 – Hot Soil (Atesli Topraklar) (as Ismail Bozdagli)
2005 – Trust and Betrayal (Emanet ve Ihanet) (as Hakki) (Movie)
2008 – 1001 Nights (Binbir Gece) (as Tugrul)
2007 – Knife Edge (Bicak Sirti) (as Dr. Zafer Guven)
2007 – Munferit (Movie)
2008 – Night and Daytime (Gece Gunduz) (as Selcuk)
2008 – Wind (Ruzgar) (as Hilmi)
2009 – Behind the Bars (Parmakliklar Ardinda) (as Kemal)
2011 – Invisible (Gorunmeyen) (as Ekrem Kirac) (Movie)
2011 – Once Upon a Time in Anatolia (Bir Zamanlar Anadolu'da) (as Cemal) (Movie)
2011 – My Heart Chose You (Kalbim Seni Secti) (as Onur Akgun)
2011 – Home (Yurt) (Movie)
2012 – 2013 Time Flies (Oyle Bir Gecer Zaman Ki) (as Arif Yucel)
2012 – Dark Red (Koyu Kirmizi) (as Mahir Guzey)
2012 – Mold (Kuf) (as Murat) (Movie)
2013 – Running Amok (Short Movie)
2013 – 2014 Those Hidden (Sakli Kalanlar) (as Murat Cevher)
2015 – Light Years (as Dee) (Movie)
2015 – Kocan Kadar Konus (as O) (Movie)
2015 – Entanglement (Dolanma) (as Kemal) (Movie)
2015 – Magnificent Century: Kosem (Muhtesem Yuzyil: Kosem) (as Aziz Mahmud Hudayi)
2015 – The Jungle (as Dundar) (Short Movie)
2016 – Kocan Kadar Konus: Dirilis (as O) (Movie)
2016 – Beginner (as Jon) (Movie)
2017 – 2018 Black and White Love (Siyah Beyaz Ask) (as Namik Emirhan)
2017 – Seven Ne Yapmaz (as Orhan Ekinsoy)
2017 – The Stone (Tas) (as Ekber) (Movie)
2018 – Halef (as Mahir) (Movie)
2018 – Yucel'in Cicekleri (as Ismail Hakki Tonguc) (Movie)
2020 – Gun On4 (as Gazanfer)
2021 – Saygi (as Abdulkadir Yildiray)
2021 – Yesilcam (as Ekrem Haznedaroglu)
2021 – Terapist (as Cetin)
2021 – Elbet Bir Gun (as Yavuz Kaplan)
2022 – As the Crow Flies (Kus Ucusu) (as Faruk)
Award:
2012 – 17.Sadri Alisik Awards – Best Actor (Once Upon a Time in Anatolia)
2013 – Televizyon Dizisi Best of the Year Awards – Best Actor in a Supporting Role (Time Flies)
2018 – 6. Bosphorus Film Festival – Best Actor (Halef)
2019 – 24. Sadri Alisik Theatre and Cinema Awards – Best Actor (Halef)
2019 – 19. Frankfurt Turkish Film Festival – Best Actor (Halef)
Social
Instagram: Official Instagram Account
Twitter:
Facebook:
Gallery