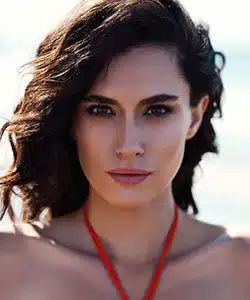 Profile
Name: Hande Dogandemir
Birthdate: November 22, 1985
Birthplace: Ankara, Turkey
Height: 170 cm
Eye Color: Hazel
Hair Color: Brown
Education: Ankara University – Sociology (Ankara Universitesi Sosyoloji Bolumu) (2009); Akademi 35.5 Art School (Akademi 35 Bucuk Sanat Okulu) (2010)
Spouse:
Biography: Hande Dogandemir was born in Ankara as the first and only child of her family. Her mother is a retiree from a public institution and her father is a retiree from a bank. She knows French and studied in Lilla, France for 6 months as an Erasmus student. Hande Dogandemir made her debut with her role at Turkish drama Waiting for the Sun (Gunesi Beklerken) in 2013.
Hande Dogandemir Tv Series / Movies
2010 – Heros (Kahramanlar) (as Zeynep Kayhan)
2010 – Sharp Knife (Keskin Bicak) (as Asli Karaagac)
2011 – 2012 Don't You Go Too (Sen De Gitme) (as Asli)
2012 – Don't Last Like That (Boyle Bitmesin) (as Ceylan Agali)
2012 – Ibret-i Ailem (as Ipek Senocak)
2012 – 2013 Subat (as Elem)
2013 – Leyla and Mecnun (Leyla ile Mecnun) (as Sans)
2013 – 2014 Waiting for the Sun (Gunesi Beklerken) (as Zeynep Yilmaz)
2015 – Telling Tales (Bana Masal Anlatma) (as Ayperi) (Movie)
2016 – Everything is From Love (Her Sey Asktan) (as Pelin) (Movie)
2015 – Showing Off (Racon) (as Yagmur/Azra Onan)
2016 – Love of My Life (Hayatimin Aski) (as Gokce)
2017 – Losers' Club on Way (Kaybedenler Kulubu Yolda) (as Sevda) (Movie)
2017 – Magnificent Century Kosem (Muhtesem Yuzyil: Kosem) (as Turhan Hatice Sultan)
2018 – Life Fractures (Can Kiriklari) (as Leyla Akgun Dogan)
2019 – Noah Land (Nuh Tepesi) (as Elif) (Movie)
2019 – Face Off (Yuzlesme) (as Masal Karaca)
2020 – The Red Room (Kirmizi Oda) (as Nesrin)
2021 – Hukumsuz (as Filiz)
2021 – Daha Iyi Bir Yarin (as Ekin) (Movie)
2021 – Annemizi Saklarken (as Handa Guven)
Social
Instagram: https://www.instagram.com/handedogandemir/
Twitter: https://twitter.com/dogandemirhande
Facebook: https://www.facebook.com/HandeDogandemir.Official
Youtube: https://www.youtube.com/user/handedogandemir