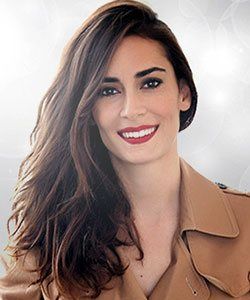 Profile
Name: Melisa Sozen
Birthdate: July 6, 1985
Birthplace: Istanbul, Turkey
Height: 169 cm (5′ 7″)
Eye Color: Brown
Hair Color: Dark Brown
Education: Pera High School of Fine Arts Theatre (Pera Guzel Sanatlar Lisesi Tiyatro Bolumu)
Spouse: Alican Yucesoy (m. 2013 – 2014)
Biography: Melisa Sozen started her acting career when she was 14 years old with her role in a musical named Hurmuz With Seven Husbands (Yedi Kocali Hurmuz). She made her debut with her role in Turkish Movie Wish Me Luck (Bana Sans Dile). She became popular with her role in popular Turkish drama The Rose and The Thorn (Cemberimde Gul Oya). Melisa Sozen also presented The Woman Who Saves The World (Dunyayi Kurtaran Kadin) in 2008 which was an informative TV program about environment at TV channel NTV.
Melisa Sozen Tv Series / Movies
1997 – Father's House (Baba Evi)
2000 – Love is a Beautiful Thing (Ask Guzel Seydir) (as Ayten) (Movie)
2001 – Wish Me Luck (Bana Sans Dile) (as Tuba) (Movie)
2001 – April Rain (Nisan Yagmuru) (as Nilufer)
2001 – New Life (Yeni Hayat) (as Ozgur)
2002 – Vine Mansion (Asmali Konak)
2002 – That is Inside (Icerideki) (as Zeynep / Cansu) (Movie)
2003 – Early Ripe, Early Rotten (Buyumus de Kuculmus) (as Sebnem)
2003 – School (Okul) (as Ceyda) (Movie)
2003 – Songs Sing You (Sarkilar Seni Soyler) (as Fatos)
2003 – Sih Senem (as Senem)
2004 – Lost Love (Kayip Asklar) (as Nermin)
2004 – 2005 The Rose and the Thorn (Cemberimde Gul Oya) (as Feriha)
2005 – Waiting For Heaven (Cenneti Beklerken) (as Leyla) (Movie)
2005 – O Simdi Mahkum (as Aylin) (Movie)
2006 – Road of Suffer (Azap Yolu) (as Burcu)
2006 – Road Going to Home 1914 (Eve Giden Yol 1914) (as Safiye) (Movie)
2006 – Nightmare House: While Waiting For You (Kabuslar Evi: Seni Beklerken) (as Mukaddes / Ece) (Movie)
2007 – 2008 Knife Edge (Bicak Sirti) (as Nisan Ertugrul)
2007 – Give Your Blessing (Hakkini Helal Et) (as Gamze)
2009 – Beyond the Clouds (Bir Bulut Olsam) (as Narin Bulut)
2010 – Hunting Season (Av Mevsimi) (as Asiye) (Movie)
2011 – Magnificent Century (Muhtesem Yuzyil) (as Nora / Efsun)
2011 – I Don't Like Sundays at All (Pazarlari Hic Sevmem) (as Deniz) (Movie)
2011 – Reis (as Ayse)
2012 – 2013 Subat (as Yagmur)
2013 – Winter Sleep (Kis Uykusu) (as Nihal) (Movie)
2014 – Anali Ogullu (as Ece)
2014 – Are You With Me? (Benimle Var Misin?) (Movie)
2015 – Five Siblings (Bes Kardes) (as Fahriye)
2015 – Once Upon a Time (Bir Varmis Bir Yokmus) (as Nehir) (Movie)
2016 – 2017 Flames of Desire (Hayat Sarkisi) (as Ipek)
2017 – 7Faces (7Yuz)
2017 – My Father's Sin (Babamin Gunahlari) (as Yesim)
2017 – Le Bureau des Legendes (as Esrin)
2017 – Cember (as Ipek Eryilmaz)
2019 – Damien veut changer le monde (as Selma) (Movie)
2020 – Alef (as Yasar)
Awards
2008 – 3. Ismail Dumbullu Awards (3.Ismail Dumbullu Odulleri) – Best Tv Actress (Knife Edge) – En Iyi TV Kadin Oyuncu (Bicak Sirti)
2011 – 4. Yesilcam Awards (4.Yesilcam Odulleri) – Best Actress in Supporting Role (Hunting Seaon) – En Iyi Yardımcı Kadin Oyuncu (Av Mevsimi)
2015 – 47. Siyad Turkish Cinema Awards (47. Siyad Turk Sinemasi Odulleri) – Cahide Sonku Best Actress (Winter Sleep) – Cahide Sonku En Iyi Kadin Oyuncu (Kis Uykusu)
Social
Instagram: https://www.instagram.com/melisa.sozen/
Twitter:
Facebook: https://www.facebook.com/melisasozenofficial
Melisa Sozen Gallery