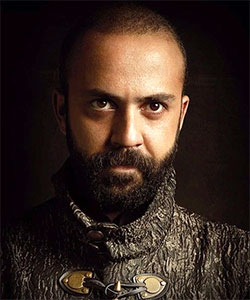 Profile
Name: Sarp Akkaya
Birthdate: May 13, 1980
Birthplace: Istanbul, Turkey
Height: 183 cm
Eye Color: Brown
Hair Color: Black
Education: Mimar Sinan University Fine Arts School (Mimar Sinan Universitesi Devlet Konservatuvari)
Talent Agency:
Spouse: Sinem Yalcinkaya (m. 2017-present)
Children: Kaan Akkaya
Biography: Sarp Akkaya graduated from Mimar Sinan University in 2001. He took part in various theatre plays such as Chaos (Kaos) and After (Sonra) at Studio Drama Theatre Community (Studyo Drama Tiyatro Toplulugu) and 6th Day (6. Gun) and Devenin Horgucu Yamuk Olur at Alchera Theatre Community (Alchera Tiyatro Toplulugu). He started his tv career with his role in turkish series Our Family (Bizim Aile). Sarp Akkaya became very popular with his roles in popular Turkish dramas Valley of Wolves Ambush (Kurtlar Vadisi Pusu) and Karadayi. Sarp Akkaya's elder sister Esra Akkaya is also an actress. Sarp Akkaya has a twin brother named Kaya Akkaya. Together with his siblings, Sarp Akkaya founded Academia Theatre (Akkademi Tiyatro).
Sarp Akkaya Tv Series / Movies
1995 – Our Family (Bizim Aile) (as Kerim)
2004 – Ah Be Istanbul
2005 – Nefes Nefese
2006 – Don't Forget Me (Beni Unutma)
2007 – Valley of Wolves Ambush (Kurtlar Vadisi Pusu) (as Servet)
2007 – Postponed Lives (Ertelenmis Hayatlar)
2007 – School of Fame (Sohret Okulu)
2008 – Exiled Lives (Surgun Hayatlar)
2008 – The Market: A Tale of Trade (Pazar: Bir Ticaret Masali) (as Faruk) (Movie)
2009 – Night Daytime (Gece Gunduz)
2009 – 2011 Ezel (as Tevfik Zaim)
2011 – 2012 Blue Butterflies (Mavi Kelebekler) (as Halil Latic)
2011 – Labyrinth (Labirent) (as Bulent) (Movie)
2011 – The Escape (Firar) (Movie)
2012 – 2013 Game of Silence (Suskunlar) (as Sari Bilal)
2012 – One Day or Another (El Yazisi) (as Volkan) (Movie)
2012 – Shubat (Subat) (as Lodos)
2013 – 2014 Magnificent Century (Muhtesem Yuzyil) (as Atmaca)
2015 – Racon (as Recep Guldag)
2015 – Incomplete (Eksik) (Movie)
2015 – 2016 Married and Angry (Evli ve Ofkeli) (as Murat)
2017 – Broken Pieces (Paramparca) (as Damir)
2017 – The Lord of the Seagull (Martilarin Efendisi) (Movie)
2017 – Bad Boy (Kotu Cocuk) (as Vural Askaya) (Movie)
2017 – 2019 Oath (Soz) (as Dragan Rathovic)
2018 – Kaybedenler Kulubu Yolda (as Alper) (Movie)
2018 – Gorevimiz Tatil (as Cevdet) (Movie)
2019 – Bullet (Kursun) (as Aydin Kara)
2019 – Miracle in Cell No. 7 (7. Kogustaki Mucize) (as Nail) (Movie)
2019 – Ferhat and Sirin (Ferhat ile Sirin) (as Cemal)
2020 – 2021 Ayak Izleri (as Burhan)
2021 – The Pit (Cukur) (as Sahram)
2021 – Sen Ben Lenin (Movie)
2021 – Saygi (as Selim Hacioglu)
2021 – Beni Cok Sev (as Musa) (Movie)
2021 – All About Marriage (Evlilik Hakkinda Hersey) (as Sergen Gunay)
Awards
Theatre Plays
Markali Hava
Albay Kus
Devenin Horgucu Yamuk Olur
Social
Instagram: https://www.instagram.com
Twitter: https://twitter.com
Facebook: https://www.facebook.com
Youtube: https://www.youtube.com
E-Mail:
Trivia
Body Type:
Skills:
Star Sign: Taurus
Blood Type:
Hobbies:
Sarp Akkaya Gallery