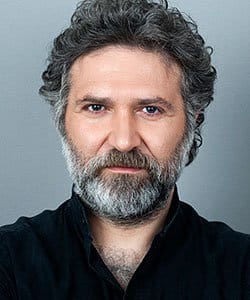 Profile
Name: Burak Tamdogan
Birthdate: March 03, 1971
Birthplace: Ankara, Turkey
Height: 1,85 m
Eye Color: Blue
Hair Color: Black
Education: METU – Psychology (1989 – 1996) (ODTU Psikoloji Bolumu); Ankara University – Theatre (1996 – 2001) (Ankara Universitesi Tiyatro Bolumu)
Talent Agency: Artistanbul Management
Spouse:
Biography: Burak Tamdogan was born in 03 March 1971 in Ankara. He graduated from METU but decided to change his career. He then studied theatre at Ankara University. He took part in various tv projects, theatre plays, as well as he directed some theatre plays. Burak Tamdoğan is also professionally gives trainings about screenwriting and theatre play writing.

Burak Tamdogan Tv Series / Movies
1993 – Mrs. Ferhunde (Ferhunde Hanımlar)
2000 – Our House's Events (Bizim Evin Halleri)
2005 – 5th Dimension (Besinci Boyut) (as Adnan)
2005 – Groom Side (Erkek Tarafi) (as Mehmet)
2006 – Vow (Adak) (as Hasan)
2006 – International (Beynelmilel) (as Samet) (Movie)
2007 – Give Your Blessing (Hakkini Helal Et) (as Recep)
2007 – Black Snake (Kara Yilan) (as Tarik)
2007 – Armageddon (Mahser) (as Tevfik)
2007 – Behind the Bars (Parmakliklar Ardinda) (as Osman Zeybek)
2008 – Stay on Your Feet (Ayakta Kal) (as Tekin Teacher) (Movie)
2008 – Elif (as Ekrem)
2008 – Lookout (Kollama) (as Menderes)
2008 – 2010 Little Women (Kucuk Kadinlar) (as Mustafa Gezici)
2008 – Hot (Sicak) (as Bekir) (Movie)
2009 – 2010 Large Family (Genis Aile) (as Nebil)
2009 – Breath (Nefes) (as Yaman)
2010 – 2012 – Different Patterns (Farkli Desenler) (as Yildirim/Engin)
2011 – Left Behind (Geriye Kalan) (as Mustafa) (Movie)
2012 – Helper Ahmet (Yamak Ahmet) (As Emin)
2012 – 6 Turkish Ravioli (6 Manti) (as Kadir)
2012 – Migration (Goc) (as Bilal)
2013 – The Longest Century (En Uzun Yuzyil)
2013 – Fried Chicken (as Bedri) (Movie)
2014 – 2015 Black Money and Love (Kara Para Ask) (as Huseyin)
2015 – Moms and Mothers (Analar ve Anneler) (as Salih Aga)
2016 – Time of Departure (Goc Zamani) (as Bilal)
2016 – Old Stager (Kacin Kurasi) (as Asim)
2016 – 2017 Heart Of The City (Bu Sehir Arkandan Gelecek) (As Tekin Mirkelamoglu)
2017 – Sansimi Seveyim (as Hafiz) (Movie)
2018 – Kafalar Karisik (as Kazim) (Movie)
2018 – Conqueror Mehmed (Mehmed: Bir Cihan Fatihi) (as Sehabettin Pasa)
2018 – Hold My Hand (Elimi Birakma) (as Azmi)
2020 – The Red Room (Kirmizi Oda) (as Musa Aslandogan)
2020 – Hercai (as Filibos)
2020 – Either Independence or Death (Ya Istiklal Ya Olum) (as Fevzi Cakmak)
2020 – Romance Next Door (Cati Kati Ask) (as Filozof Emin)
2021 – Kazara Ask (as Dursun)
2022 – Tarihin Efsaneleri (as Aetius)
2023 – Kurulus Osmanli (as Germiyanoglu Yakup)
2023 – Kucuk Dahi: Ibn-i Sina (as Hekim Kusyar)
Awards
Social
Instagram: @buraktamdogan Instagram
Twitter: @buraktamdogan
Facebook:
E-Mail:
Trivia
Body Type:
Skills:
Zodiac Sign:
Blood Type:
Language: English (Good)
Weight: 82 kg