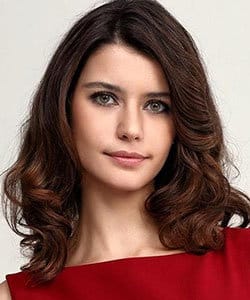 Profile
Name: Beren Saat
Birthdate: February 26, 1984
Birthplace: Ankara, Turkey
Height: 167 cm (5′ 4″)
Eye Color: Green
Hair Color: Light Brown
Education: Baskent University Business Administration (Baskent Universitesi Isletme Bolumu); TED Ankara College
Talent Agency: Rezzan Cankir Cast Ajans
Spouse: Kenan Dogulu
Biography: Beren Saat was born in 26 February 1984 in Ankara. While she was going to university, she applied for a TV Show named Stars of Turkey (Turkiye'nin Yildizlari) and started her acting career. She became the 2nd ranking at that TV Show. She became very popular with her role Yasemin in popular Turkish drama Remember Darling (Hatirla Sevgili).
Beren Saat Tv Series / Movies
2004 – Death in Our Love (Askimizda Olum Var) (as Nermin)
2005 – 2006 Love in Exile (Aska Surgun) (as Zilan Sahvar Azizoglu)
2006 – 2008 Remember Darling (Hatirla Sevgili) (as Yasemin Unsal)
2007 – European Side (Avrupa Yakasi) (as Yasemin Unsal)
2008 – 2010 Forbidden Love (Ask-i Memnu) (as Bihter Yoreoglu Ziyagil)
2009 – Pains of Autumn (Guz Sancisi) (as Elena) (Movie)
2009 – The Wings of the Night (Gecenin Kanatlari) (as Gece) (Movie)
2010 – Toy Story 3 (Oyuncak Hikayesi 3) (as voice) (Movie)
2010 – 2012 What is Fatmagul's Fault? (Fatmagul'un Sucu Ne?) (as Fatmagul Ketenci Ilgaz)
2012 – Brave (Cesur) (as voice) (Movie)
2012 – Rhino Season (Gergedan Mevsimi) (as Buse) (Movie)
2013 – My World (Benim Dunyam) (as Ela Bayindir) (Movie)
2013 – 2014 Revenge (Intikam) (as Yagmur Ozden / Derin Celik)
2015 – 2017 Magnificent Century Kosem (Muhtesim Yuzyil: Kosem) (as Mahpeyker Kosem Sultan)
2016 – Madonna in a Fur Coat (Kurk Mantolu Madonna) (as Maria Puder) (Movie)
2017 – Call (Arama) (Movie)
2019 – 2021 The Gift (Atiye) (as Atiye Ozgursoy)
Awards
2008 –

Golden Tulip Fine Arts Awards (Altin Lale Guzel Sanatlar Odulleri) – Best Actress (Tv series) (Remember Darling)

– En Iyi Kadin Oyuncu (Dizi) (Hatirla Sevgili)
2009 –

36. Golden Butterfly TV Stars Awards (36. Altin Kelebek Tv Yildizlari Odulleri)

– Best Actress (Drama) (Forbidden Love) – En Iyi Kadin Oyuncu (Dram) (Ask-i Memnu)
2009 –

Kabataslilar Foundation (Kabataslilar Dernegi)– Best Actress (Cinema) (Pains of Autumn)

– En Iyi Kadin Sinema Oyuncusu (Guz Sancisi)
2009 –

Yildiz Teknik University (Yildiz Teknik Universitesi) – Most Loved Actress (Forbidden Love)

– En Begenilen Kadin Oyuncu (Ask-i Memnu)
2009 –

Beykent Univertsity (Beykent Universitesi) – Best Actress of the Year (Forbidden Love)

– Yilin En Iyi Kadin Oyuncusu (Ask-i Memnu)
2010 –

Cinema is Here Festival (Sinema Burda Festivali) – Young Actress (The Wings of the Night)

– Genc Oyuncu Gecenin Kanatlari
2010 –

Elle Style Awards – Most Actress (Stil Sahibi Kadin Oyuncu)

2010 –

37. Golden Butterfly TV Stars Awards (37. Altin Kelebek Tv Yildizlari Odulleri)

– Best Actress (Drama) (Forbidden Love) – En Iyi Kadin Oyuncu (Dram) (Ask-i Memnu)
2010 –

Ayakli Newspaper (Ayakli Gazete) – Best Actress (Drama) (Forbidden Love)

– En Iyi Dram Kadin Oyuncu (Ask-i Memnu)
2010 –

Turkiye Konusuyor Dergisi – Best Actress (Tv series) (Forbidden Love)

– Yilin En Iyi Dizi Oyuncusu (Ask-i Memnu)
2010 –

Kadir Has University (Kadir Has Universitesi)- Best Actress (Forbidden Love)

– Yilin En Iyi Kadin Oyuncusu (Ask-i Memnu)
2010 –

Galatasaray University (Galatasaray Universitesi)- Best Actress (Tv series-Cinema) (Forbidden Love)

– Yilin En Iyi Kadin Dizi-Sinema Oyuncusu (Ask-i Memnu)
2010 –

Marmara University (Marmara Universitesi) – Best Actress (Tv series) (Forbidden Love)

– Dizi Oyuncusu (Kadin) (Ask-i Memnu)
2011 –

Yildiz Teknik University (Yildiz Teknik Universitesi) – Most Loved Actress (What is Fatmagul's Fault?)

– En Begenilen Kadin Oyuncu (Fatmagul'un Sucu Ne?)
2011 –

Dogus University (Dogus Universitesi)- Best Actress (Tv series) (What is Fatmagul's Fault?)

– En Iyi Kadin Oyuncu (Fatmagul'un Sucu Ne?)
2011 –

Foundation of Adversiters (Reklamcilar Dernegi) – Best Actress (Tv series) (What is Fatmagul's Fault?)

– En Iyi Kadin Dizi Oyuncusu (Fatmagul'un Sucu Ne?)
2011 –

2. Quality Magazine Awards (2. Quality Magazin Odulleri)- Best Actress (What is Fatmagul's Fault?)

– En Iyi Kadin Oyuncu (Fatmagul'un Sucu Ne?)
2011 –

Esenler Municipality (Esenler Belediyesi) – Best Actress of the Year (Tv series) (What is Fatmagul's Fault?)

– Yilin En Iyi Kadin Dizi Oyuncusu (Fatmagul'un Sucu Ne?)
2011 –

Dumlupinar University (Dumlupinar Universitesi)- Best Actress (What is Fatmagul's Fault?)

– En Iyi Kadin Oyuncu (Fatmagul'un Sucu Ne?)
2012 –

Kadir Has University (Kadir Has Universitesi) – Most Loved Actress (What is Fatmagul's Fault?)

– En Begenilen Kadin Dizi Oyuncusu Fatmagul'un Sucu Ne?
2012 –

Ayakli Newspaper (Ayakli Gazete) – Best Actress (Drama) (What is Fatmagul's Fault?)

– Yilin en iyi drama kadin oyuncusu (Fatmagul'un Sucu Ne?)
2012 –

Haydarpasa High School (Haydarpasa Lisesi) – Actress at Peak (What is Fatmagul's Fault?)

– Zirvedeki Oyuncu (Kadin) (Fatmagul'un Sucu Ne?)
2012 –

11. ROTABEST Awards (11. ROTABEST Odulleri) – Best Actress (Tv series) (What is Fatmagul's Fault?)

– En Iyi Kadin Dizi Oyuncusu Fatmagul'un Sucu Ne?
2012 –

25. International Consumer Summit (25. Uluslararasi Tuketici Zirvesi)- Best Actress (What is Fatmagul's Fault?)

– En Iyi Kadin Oyuncu Fatmagul'un Sucu Ne?
2012 –

Sisli Vocational School (Sisli Meslek Yuksekokulu) – Best Actress (What is Fatmagul's Fault?)

– En Iyi Kadin Oyuncu Fatmagul'un Sucu Ne?
2013 –

TUROB – Thank You Award (Forbidden love)

– Tesekkur Odulu (Ask-i Memnu)
2013 –

University – Bilkent Universitesi – Best Actress (What is Fatmagul's Fault?)

– En Iyi Kadin Oyuncu (Fatmagul'un Sucu Ne?)
Social
Instagram: https://www.instagram.com/berenn_saat/
Twitter: https://twitter.com/berensaat
Facebook: https://www.facebook.com/BerenSaat/
Trivia
Body Type:
Skills:
Star Sign:
Blood Type:
Hobbies:
Beren Saat Gallery
Beren Saat talking for Afgan women (with English Subtitle)
Beren Saat talking for Afgan women