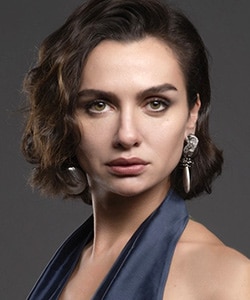 Profile
Name: Birce Akalay
Birthdate: June 19, 1984
Birthplace: Istanbul, Turkey
Height: 178 cm
Eye Color: Green
Hair Color: Brown
Education: Pera Fine Arts High School; Istanbul University Theatre Critics and Dramaturgy (drop-out); Halic University Conservatory – Theatre (Halic Universitesi Konservatuvar Tiyatro Bolumu)
Talent Agency: Id Iletisim
Spouse: Sarp Levendoglu (m. 2014-2017), Murat Unalmis (m. 2011–2012)
Biography: Birce Akalay was born in 19 June 1984 in Istanbul. She studied theatre at Pera Fine Arts High School and graduated in 2003. After then, she studied theatre critics and dramaturgy at Istanbul University but she decided not to finish her studied. Instead, she graduated from Halic University Conservatory. Birce Akalay became the third ranking at 2004 Miss Turkey and represented the country at Miss Europe Contest. During 2004 and 2007, Birce Akalay worked as sport presenter at Star Tv and TV8. She also presented sport programs like Champions League (Sampiyonlar Ligi) and 8th Stage (8. Etap). Birce Akalay started her acting career with her role in Destiny (Kader).

Birce Akalay Tv Series / Movies
2007 – Destiny (Kader) (as Lamia)
2007 – Fort he Sake of You (Senin Ugruna) (as Ozlem)
2008 – Rebellious (Asi) (as Zeynep)
2008 – Last Lesson: Love and University (Son Ders: Ask ve Universite) (as Sevim) (Movie)
2009 – Rebellion to Eveything (Alayina Isyan) (as Sevtap)
2009 – Winter Fairytale (Kis Masali) (as Zisan)
2009 – The Breath (Nefes: Vatan Sagolsun) (as Zeynep) (Movie)
2009 – I Love You (Sizi Seviyorum) (as Eda) (Movie)
2010 – 2013 Love is in the Air (Yer Gok Ask) (as Havva Karagul Hancioglu)
2013 – Re-Era (Short Movie)
2013 – 2014 I Loved Him So Much (Ben Onu Cok Sevdim) (as Ayhan Aydan)
2014 – Don't Last Like That (Boyle Bitmesin) (as Aylin)
2014 – 2015 Little Lord (Kucuk Aga) (as Sinem Acar)
2015 – 2016 Married and Angry (Evli ve Ofkeli) (as Esra)
2016 – Deliormanli (as Hulya Yigit) (Movie)
2016 – 2017 Bitter Sweet Life (Hayat Bazen Tatlidir) (as Teacher Hayat Sariyaz)
2017 – Sana Kalbimi Verdim
2017 – 2018 Black and White Love (Siyah Beyaz Ask) (as Asli Cinar Aslan)
2018 – Aglama Anne (as Alev Firincioglu)
2020 – The Choice (Babil) (as Ilay Yucedag)
2021 – Last Summer (Son Yaz) (as Sare Akay)
2022 – As the Crow Flies (Kus Ucusu) (as Lale Kiran)
2022 – Mezarlik (as Onem Ozulku) (Movie)
Awards
2017 –

Unimpeded Life Foundation 8. Best of the Year Awards (Engelsiz Yasam Vakfi 8.Yilin En Iyileri Odulleri) – Best Women Theatre Player (Hurmuz with 7 Husbands)

– En Iyi Kadin Tiyatro Oyuncusu (Yedi Kocali Hurmuz)
2018 –

9. KTU Media Awards (9. KTU Medya Odulleri) – Best Actress (Black Money Love)

– En Iyi Kadin Oyuncu (Siyah Beyaz Ask)
2018 –

Istanbul Universitesi 1453 Odulleri – Yilin En Iyi kadin Oyuncusu (Siyah Beyaz Ask)

2018 –

2. Bosphorus Awards – Best Actress (Black Money Love)

2019 –

Okan University Best of the Year Awards (Okan Universitesi Yilin En'leri Odulleri) – Best Actress (Foster Mother)

– En Iyi Kadin Dizi Oyuncusu (Aglama Anne)
2019 –

2. Best Of Rumelia Awards (2.Best Of Rumeli Odulleri) – Best Actress (En Iyi Kadin Oyuncu)

2021 –

Ogrencilere Sorduk Proje Awards – Best Actress (The Choice)
Theatre Plays
2017 – 2019 Yedi Kocali Hurmuz (as Hurmuz)
2020 – Kesanli Ali Destani (as Zilha)
2021 – Hircin Kiz (as Katherina)
Social
Instagram: Official Instagram Account
Twitter: Official Twitter Account
Facebook:
E-Mail:
Trivia
Body Type:
Skills:
Star Sign: Gemini
Blood Type:
Hobbies:
Birce Akalay Gallery
Manidar Song
Birce Akalay Turkish Actress
From the Interview with Birce Akalay