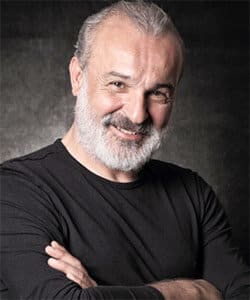 Profile
Name: Hakan Vanli
Birthdate: March 1, 1963
Birthplace: Ankara, Turkey
Height: 180 cm
Eye Color: Hazel
Hair Color: Brown
Education: Hacettepe University State Conservatory – Theatre (Hacettepe Universitesi Devlet Konservatuvari Tiyatro Bolumu)
Talent Agency: Muge Ulusoy Media
Spouse: Umit Omac
Biography: Hakan Vanli was born in March 1, 1963 in Ankara. After graduating from Hacettepe University, Hakan Vanli started his career with theatre. He took part in various theatre plays in State Theatres. He also worked as voiceover at various radio theatre plays and dubbing. Hakan Vanli also gave acting lessons at Duru Theatre. These are some of the theatre plays where Hakan Vanli took part: Cehov Makinesi, Lozan ne Dersin, Azizim Mufettis, Seyh Bedreddin, and so on.
Hakan Vanli Tv Series / Movies
1993 – Ferhunde Hanimlar
1995 – Our Family (Bizim Aile)
1996 – River Flowing Backwards (Tersine Akan Nehir)
1997 – Human Worm (Insan Kurdu) (Movie)
1999 – I Wish I Were a Rich (Ah Bir Zengin Olsam) (as Yusuf)
1999 – The Lion's Den (Kurtlar Sofrasi) (as Mahmut)
1999 – Windmill (Ruzgar Gulu)
1999 – I Didn't Fall Down (Yikilmadim) (as Tekin)
2000 – Step Father (Uvey Baba) (as Adnan)
2001 – Vay Anam Vay (as Ekrem)
2001 – Double Trouble (Cifte Bela) (as Ahmet Veli)
2002 – Vine Mansion (Asmali Konak) (as Firat)
2002 – Kibar Mom (Kibar Ana) (as Ekrem)
2006 – Bewitched Mom (Sihirli Annem) (as Tugrul Bey)
2005 – Big Meeting (Buyuk Bulusma) (as Cem)
2004 – Blue Necklace (Mavi Kolye) (as Selcuk)
2004 – Shoulder to Shoulder (Omuz Omuza) (as Mustafa Alpaslan)
2005 – Fifth Dimension (Besinci Boyut) (as Nevzat)
2005 – Silent Night (Sessiz Gece) (as Zeynel)
2007 – Back Streets (Arka Sokaklar) (as Zeynel)
2006 – Turks in Space (Dunyayi Kurtaran Adamin Oglu) (as Cenap) (Movie)
2006 – 2007 Two Families (Iki Aile) (as Yaman Soydan)
2008 – Night Daytime (Gece Gunduz) (as Refik)
2008 – Ottoman Republic (Osmanli Cumhuriyeti) (as Sadrazam Sadik Muhtar) (Movie)
2009 – Valley of Wolves: Gladio (Kurtlar Vadisi: Gladio) (as Ali) (Movie)
2009 – 2010 Unforgettable (Unutulmaz) (as Burak)
2011 – Like a Sin (Bir Gunal Gibi) (as Aziz)
2013 – Marriage School (Evlilik Okulu) (as Turgay)
2013 – Safe and Sound 2: Start Over (Sag Salim 2 Sil Bastan) (as Tekin) (Movie)
2014 – 2017 Resurrection: Ertugrul (Dirilis: Ertugrul) (as Kurdoglu)
2015 – Last Exit (Son Cikis) (as Lostra)
2015 – Deserted (Terkedilmis) (Movie)
2016 – 2017 Deniz inside My Heart (Kalbimdeki Deniz) (as Nejat Aksal)
2018 – 2019 Victorious Mehmets (Mehmetcik Kut'ul Amare) (as Neccar)
Awards
2013 – 18. Sadri Alisik Odulleri – Yilin En Iyi Yardimci Erkek Oyuncusu Adayi
Social
Instagram: https://www.instagram.com/hakanvanli63/
Twitter:
Facebook:
E-Mail:
Hakan Vanli Gallery