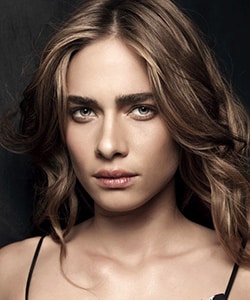 Profile
Name: Muge Boz
Birthdate: April 13, 1984
Birthplace: Istanbul, Turkey
Height: 171 cm
Eye Color: Blue
Hair Color: Blonde
Education: Anadolu University Cinema, TV, and Public Relations (Anadolu Universitesi Sinema TV ve Halkla Iliskiler Bolumu), Høgskulen i Volda (Volda University College) strategic design and digital photography
Talent Agency:
Spouse: Caner Erdeniz (m. 2019-present)
Children: Vina Erdeniz
Biography: Muge Boz was born in 13 April 1984. She lived in Istanbul until she was 12 years old and after then, she moved to Izmir due to her father's occupation. She went to Izmir Ataturk High School and studied cinema, tv and public relations at Anadolu University. After graduation, Muge Boz studied atrategic design and digital photography at Hogskulen Volda, Norway. Muge Boz took ballet lessons for 11 years and piano lessons for 4 years. She was also interested in various sports including swimming, tennis, volleyball and motorcycling.
Muge Boz Tv Series / Movies
2008 – Angels Bless You (Melekler Korusun) (as Cigdem)
2011 – Sons of Soil (Topragin Cocuklari) (as Karika) (Movie)
2011 – Suspicion (Suphe) (as Meltem Kutlu)
2011 – Police Station (Karakol: Herkes Adalet Ister) (as Ada)
2012 – Leyla and Mecnun (as Sirin / Leyla)
2012 – I Have a Story (Bir Hikayem Var) (as Yagmur) (Movie)
2012 – Karaoglan (as Bayir Gulu) (Movie)
2013 – Bu Iste Bir Yalnizlik Var (as Zeynep) (Movie)
2013 – Gurbette Ask Bir Yastikta (as Nina)
2013 – Fake World (Yalan Dunya) (as Oya)
2013 – Love Wants Effort (Ask Emek Ister) (as Leyla)
2014 – 2015 Back Streets (Arka Sokaklar) (as Ece Dundar)
2016 – On The Wings of Love (Sevda Kusun Kanadinda) (as Isik)
2017 – Magnificent Century Kosem (Muhtesem Yuzyil: Kosem) (as Telli Haseki Humasah Sultan)
2017 – Kayitdisi (as Idil)
2018 – Nezih Bir Film (as Safure) (Movie)
2019 – Romance Next Door (Cati Kati Ask) (as Su) (Movie)
2019 – Gecmis Olsun (as Tugba) (Movie)
Awards
Social
Instagram: https://www.instagram.com/mugeboz/
Twitter:
Facebook:
E-Mail: [email protected]
Youtube Channel: https://www.youtube.com/c/mugeboz
Trivia
Body Type:
Skills:
Zodiac Sign: Aries
Blood Type:
Hobbies: Swimming, tennis, volleyball and motorcycling
Weight: 58 kg
Muge Boz Gallery