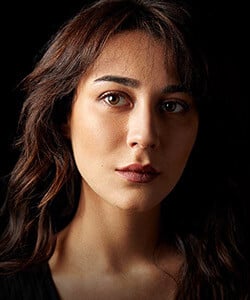 Profile
Name: Merve Cagiran
Birthdate: July 13, 1992
Birthplace: Balikesir, Turkey
Height: 172 cm
Eye Color: Hazel
Hair Color: Brown
Education: Acting lessons at 35.5 Art House (35 Bucuk Sanat Evinde Oyunculuk Egitimi)
Talent Agency: Abdullah Bulut Management
Spouse:
Biography: Merve Cagiran was born in 13 July 1992 in Balikesir. She spent her childhood in Izmir and studied primary school, secondary and high school in Izmir. Merve Cagiran took acting lessons at 35.5 Art House and started her acting career. She made her debut with her role at turkish series Tek Turkiye in 2010. After then, she took part in various television projects.
Merve Cagiran Tv Series / Movies
2010 – Tek Turkiye (as Sevda)
2011 – Elde Var Hayat (as Aysegul)
2011 – Daydreaming (Kavak Yelleri) (as Gulcin)
2012 – Farkli Desenler (as Vicdan)
2013 – Ekip 1: Nizama Adanmis Ruhlar (as Aleyna)
2013 – 2014 Sefkat Tepe (as Dicle)
2013 – 2014 The Others (Otesiz Insanlar) (as Hazal)
2014 – Hiyanet Sarmali (as Beyza)
2014 – Runaway Brides (Kacak Gelinler) (as Gunes Gencer)
2014 – 2015 Little Bride (Kucuk Gelin) (as Havin)
2015 – Pretty Little Liars (Tatli Kucuk Yalancilar) (as Janset)
2015 – Our Story (Bizim Hikaye) (Movie)
2016 – For Both of Us (Ikimizin Yerine) (as Sevil) (Movie)
2016 – 2017 Hayat (Ask Laftan Anlamaz) (as Ipek)
2017 – Heartbeat (Kalp Atisi) (Dr. Ipek Erdem)
2017 – Phi (Fi) (as Ceren)
2018 – 2019 Crash (Carpisma) (as Meral Aksu)
2018 – 2019 Bozkir (as Nihal)
2018 – Losers' Club on Way (Kaybedenler Kulubu Yolda) (as Gaye) (Movie)
2019 – 2020 The Boy (Cocuk) (as Ayca Yilmaz)
2021 – Heart Wound (Kalp Yarasi) (as Hande Varoglu)
Awards
2018 – Pantene Golden Butterfly Awards (Pantene Altin Kelebek) – Yildizi Parlayanlar Odulu
Social
Instagram: https://www.instagram.com/mervecagiran/
Twitter:
Facebook:
E-Mail:
Trivia
Body Type:
Skills:
Zodiac Sign: Crab
Blood Type:
Hobbies:
Weight:
Merve Cagiran Gallery
Merve Cagiran Based Istanbul
Merve Çağıran X Merve Çağıran