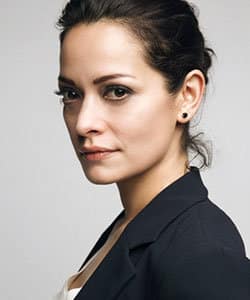 Profile
Name: Sezin Akbasogullari
Birthdate: June 22, 1981
Birthplace: Izmir, Turkey
Height: 163 cm
Eye Color: Brown
Hair Color: Brown
Education: Bilkent University Theatre (Bilkent Universitesi Tiyatro Bolumu)
Other: Sezin Akbasogullari started her acting career during high school. She participated to high-school theatre club and took part in a theatre play named Yine Basladilar Sarkilarina (Nun singen Sie wieder). Sezin Akbasogullari made her debut with Ceren role in Turkish drama Cotton White (Beyaz Gelincik).
Notable Works
2000 – Cases of Our House (Bizim Evin Halleri) (as Doga)
2004 – A Love Story (Bir Ask Hikayesi) (as Dunya) (Movie)
2004 – Gulizar (Movie)
2005 – Cotton White (Beyaz Gelincik) (as Ceren)
2005 – Eylul (as Teacher Zeynep)
2005 – Earings (Kupeler) (as Zeynep) (Short Movie)
2007 – Like A Secret (Sir Gibi) (as Deniz)
2008 – Pendent (Derdest) (as Gaye Acar)
2008 – Son of a B… (O….Cocuklari) (as Meryem) (Movie)
2009 – Oh My Crazy Heart (Ah Kalbim) (as Candan)
2012 – Behzat C. (Behzat C. Bir Ankara Polisiyesi) (as Eylul)
2010 – Kardelen (as Ulker) (Movie)
2010 – The Crossing (Kavsak) (as Arzu) (Movie)
2010 – Kustum Cicegi (as Gulten)
2011 – Please Don't Go (Sen de Gitme) (as Ceyda)
2012 – The Stranger (Yabanci) (as Ozgur) (Movie)
2014 – Ah Neriman (as Itir Kamer)
2014 – But Muzeyyen, That's the Deepest Desire (Fakat Muzeyyen Bu Derin Bir Tutku) (as Muzeyyen) (Movie)
2015 – Showing Off (Racon) (as Sedef)
2015 – Remember Gonul (Hatirla Gonul) (as Selma)
2016 – Brave and Beautiful (Cesur ve Guzel) (as Cahide Korludag)
2016 – Darling at the Photo (Resimdeki Sevgili) (Movie)
2017 – Phi (Fi) (as Isil)
Awards
2010 – 17. International Golden Cocoon Film Festival (17. Uluslararası Altin Koza Film Festivali) – Best Actress (The Crossing) – En Iyi Kadin Oyuncu (Kavsak)