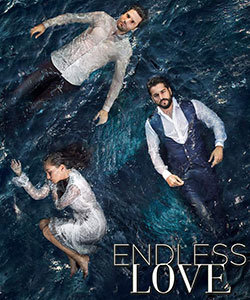 Details
Original Title: Kara Sevda
English Title: Endless Love
Also Known As: Blind Love, Tiempo de Amar, Bittersoet
Genre: Romance, Drama
Episodes: 74
Broadcast Network: Star TV
Broadcast Period: October 14, 2015 – June 21, 2017
Production Company: Ay Yapim
Director: Hilal Saral
Screen Writer: Anil Eke, Ozlem Yilmaz, Burcu Gorgun
Filming Locations: Istanbul, Turkey
Synopsis
Kemal (Burak Ozcivit) is a young guy who is a fourth year college student studying mine engineering. At the same time, Kemal works at boats and raises money to support his family. He does not have a wealthy life but he never complains about being poor.
Nihan (Neslihan Atagul), on the other hand, is a young and beautiful girl who comes from a rich family. She is a painter and enjoys her life by drawing different portraits.
One day, in order to find different faces for her next exhibition, Nihan leaves behind her wealthy life and gets on a public bus. Meanwhile, Nihan and Kemal bump into each other out of pure coincidence. They both get attracted to each other: Nihan secretly draws Kemal's portrait while Kemal secretly watches Nihan.

These two young persons fall in love with each other even though they come from different backgrounds. They find true love and want to get married as soon as possible.
However, Emir (Kaan Urgancioglu) who has been in love with Nihan for a long time does everything to win her love.
When Nihan's twin brother Ozan (Baris Alpaykut) accidentally kills a young woman, Emir uses his power to cover that accident and saves him from being put into prison. In exchange for saving his brother, Nihan accepts to get married to Emir and breaks up with Kemal without explaining anything.
Five years later, the lives of Kemal and Nihan intersect again. Kemal returns to Istanbul as a successful businessman and starts a new business with Emir. Meanwhile, Nihan continues her life as a married woman but never forgets her first love.
In endless love (kara sevda) tv series story, you will watch a pure love of rich girl and poor guy whose destinies are not written together. Will Kemal manage to learn the truth about Nihan's past? Will Kemal and Nihan manage to cope with all the obstacles in their ways and continue to love each other? Will Emir continue his life without Nihan?
Endless Love (Kara Sevda) tv series Cast
Burak Ozcivit as Kemal Soydere
Neslihan Atagul as Nihan Sezin Soydere
Kaan Urgancioglu as Emir Kozcuoglu
Zerrin Tekindor as Leyla Acemzade Kandarli
Melisa Asli Pamuk as Asu Alacahan Kozcuoglu
Baris Alpaykut as Ozan Sezin
Hazal Filiz Kucukkose as Zeynep Soydere Sezin
Gokay Muftuoglu as Salih
Cagla Demir as Banu Akmeric Soydere
Kursat Alniacik as Onder Sezin
Burak Sergen as Galip Kozcuoglu
Nese Baykent as Vildan Acemzade Sezin
Ruzgar Aksoy as Tarik Soydere
Kerem Alisik as Ayhan Kandarli
Orhan Guner as Huseyin Soydere
Zeyno Eracar as Fehime Soydere
Ugur Aslan as Zehir
Ali Burak Ceylan as Tufan Kaner
Ece Mudessiroglu as Zehra Tozkan
Metin Coskun as Hakki Alacahan
Nihan Asici as Yasemin
Elif Ozkul as Sema
External Links
Imdb:
Wikipedia:
Official Site: https://www.startv.com.tr/video/arsiv/dizi/kara-sevda
Official Site 2: http://karasevda.tv/
Youtube Channel: https://www.youtube.com/c/KARASEVDATV/
You Might Also Like:
Forbidden Love (Ask-i Memnu)
Beyond the Clouds (Bir Bulut Olsam)
Endless Love (Kara Sevda – Blind Love) Turkish Drama Relationship Chart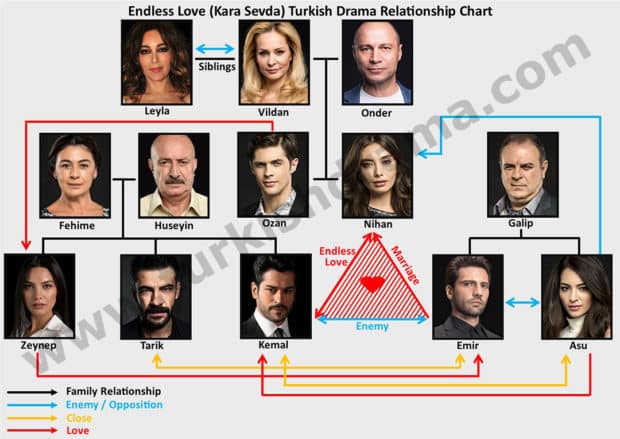 Endless Love Tv Series Poster
Endless Love Tv Series Trailer – 1 (with English Subtitle)
ENDLESS LOVE (KARA SEVDA) TV SERIES - TRAILER 1 (WITH ENGLISH SUBTITLE)
Endless Love Tv Series Trailer – 2 (with English Subtitle)
ENDLESS LOVE (KARA SEVDA) TV SERIES - TRAILER 2 (WITH ENGLISH SUBTITLE)