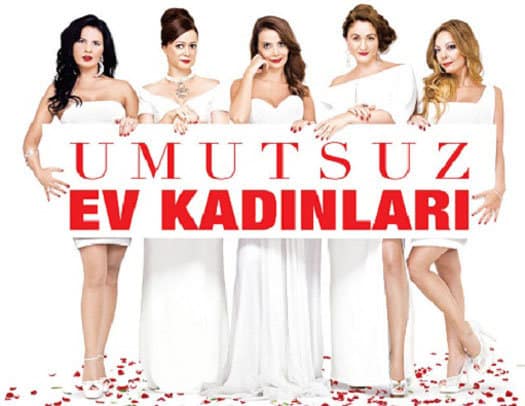 Details
Original Title: Umutsuz Ev Kadinlari
English Title: Desperate Housewives
Also Known As:
Genre: Romance, Comedy
Episodes: 2+
Broadcast Network: Kanal D
Broadcast Period: October 2, 2011 –
Production Company: Med Yapim
Director:
Screen Writer:
Synopsis
This tv series is a Turkish version of Desperate Housewives. Elif is a good mother who devoted herself to her four children and could not go back to her job again. Emel is a beautiful widow who makes a living through her death husband's salary and now searches for a new love. Nermin is a picky and difficult woman who unknowingly destroys her family relations. Yasemin is a clumsy woman who got divorced from her unfaithful husband and now lives her daughter. Zelis is a former beauty queen who got married with her first boyfriend and still wants to remain attractive and beautiful. The faith brings these five housewives together.

In this story, you will explore the lives of five women who have different backgrounds and different personnal problems.
Cast
Songul Oden as Yasemin
Ozge Ozder as Emel
Bennu Yildirimlar as Nermin
Evrim Solmaz as Zelis
Ceyda Duvenci as Elif
Ugur Cavusoglu
External Links
Official Site: https://www.kanald.com.tr/umutsuzevkadinlari
English Wikipedia: https://en.wikipedia.org/wiki/Umutsuz_Ev_Kadınları
Imdb: http://www.imdb.com/title/tt2051741/
You Might Also Like
Series Pictures
[imagebrowser id=1]