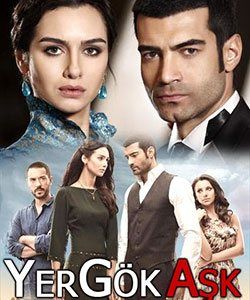 Details
Original Title: Yer Gok Ask
English Title: Love in the Sky
Also Known As: Love is in the Air, Land and Sky Full of Love (English)
Genre: Romance, Drama
Episodes: 122
Broadcast Network: Fox
Broadcast Period: August 9, 2010 – May 27, 2013
Production Company: Avsar Film
Director: Aysun Akyuz, Atil Inac, Ulas Inan Inac
Screen Writer: Eylem Canpolat, Sema Ergenekon, Berfu Soner, Isil Sonmez Sarhan
Synopsis
A wealthy Hancioglu family owns vast estates in Cappadocia in Middle Turkey. Yusuf (Murat Unalmis) is the oldest son of this family therefore; he manages the family business and bears all the responsibility of the family on his shoulders. Yusuf is very handsome, rich and hardworking. Thus, there are lots of women who want to be his bride but, Yusuf wants to get married with a woman whom he loves.

The life of Hancioglu family changes due to Yusuf's illegitimate child. The mother of this little boy dies and Yusuf becomes the only responsible parent who will raise him. Therefore, Yusuf's mother Hamiyet (Isil Yucesoy) tries to find a wet nurse in order to take care of her grandson.
Toprak (Selen Soyder) whose daughter has passed away during that time becomes a valuable choice for Yusuf's son. Although Toprak does not want to take care of another baby other than her own daughter, she eventually accepts to become a wet nurse and accepts to stay with Hancioglu family.
Toprak's older sister Havva (Birce Akalay) also starts to stay with them in order to help her sister in this new home. However, Havva is enchanted by the wealth of Hancioglu family therefore; she tries to woo Yusuf by using her temptation. Havva starts to do everything in order to attract Yusuf and sometimes she takes advantage of her own sister. Now, Yusuf finds himself between two beautiful sisters, one of them is so innocent and one of them is so attractive.
In love is in the air tv series story, you will explore a triangle love story between Yusuf, Havva and Toprak while going to the enchanting world of Anatolia. Will Havva manage to become the bride of Hancioglu family? Will Yusuf learn the original intentions of Havva? What will happen to Toprak when she learns her sister's aim?
Love is in the Air Cast
Murat Unalmis as Yusuf
Birce Akalay as Havva
Selen Soyder as Toprak
Kanbolat Gorkem Arslan as Mehmet
Ipek Erdem as Munevver
Isil Yucesoy as Hamiyet
Tuvana Turkay as Bade
Emir Benderlioglu as Yilmaz Hancioglu
Ulvi Alacakaptan as Remzi
Aysegul Gunay as Sultan
Yilmaz Calayir as Yigit
Ugur Aslan as Cuneyt
Erman Okay as Yilmaz
External Links
Official Site: http://www.fox.com.tr/Yer-Gok-Ask/
English Wikipedia:
Imdb: http://www.imdb.com/title/tt1786368/
You Might Also Like
Unutulmaz (Unforgettable)
Asmali Konak (Vine Mansion)
Love is in the Air Tv Series Gallery :